Lilacs (new Poem by Polly Castor)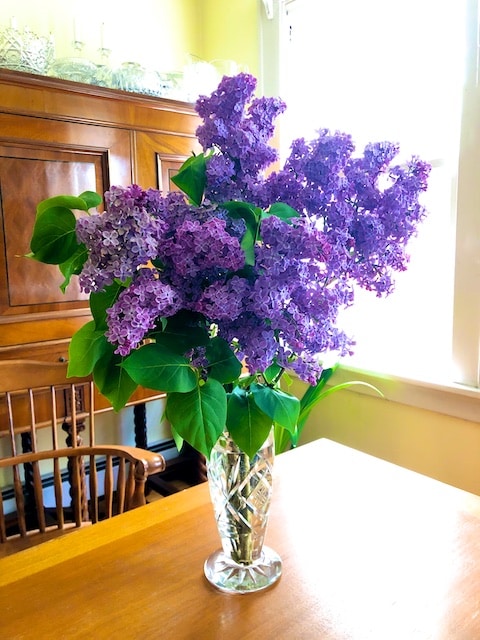 Lilacs
Those lacy, frilly cones
a bit weak necked and dangling,
but studded with tiny
star shaped bursts
of burgundy purple,
tilting to light lavender
in an explosion of fragrance
on spindly, woody legs–
how to describe that aroma?
Like maple syrup on fluffy pancakes
eaten with flowery morning tea?
Like evening sun on the dunes
where the swaying beach grass
has been toasted all day long?
Like lily of the valley only taller,
more extravagant, more generous
and more blue with traces of mauve?
Tangy, like salad dressing made
with honey mixed into the vinegar?
Pungently aromatic, suffusing the air
like verdantly vivacious potpourri?
Luxuriant, like cashmere and angora,
warm and plush and complex,
while remaining robustly delicate?
Homey, like front porch rocking chairs
and handpicking raspberries in the back yard?
Organic, infused with vitality,
cloyingly urgent, ephemerally transient,
to be enjoyed now not later?
A zen koan, reminding us to live
in this singular, fleeting moment,
absorbing all the stimulating, exquisite good.
Unselfish magnanimity that is satisfied
to improve the immediate,
surrounding environment,
making it more intriguing,
exciting, and beautiful.
A bouquet of perfume, redolent,
reminiscent, suggestive,
a lingering hope, a memory,
a promise, a love so great
as to bequeath us with
this indescribable glory
which can be expressed
in no other way
than inhaling it,
unleashing the most
contritely humble,
unstoppably effusive,
but blissfully resounding,
ahhh…yes…thank you!
Polly Castor
5/17/2020