Recipe: Eggplant Caponata Open-faced Subs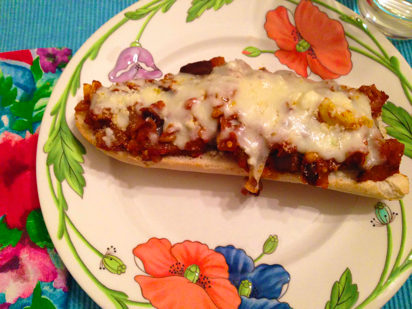 It is eleven degrees below zero today, and this makes a heart warming meal that is a bit spicy, but sure to satisfy. It is quick to make, but get all the ingredients together before you start, as the process goes fast.
1/4 cup olive oil
4 cloves of garlic, halved
1 large Spanish onion, diced
2 ribs celery, diced
2 teaspoons fresh thyme
4 cups eggplant, diced (one of the medium globe eggplants shown below)
Kosher salt
1 (6 oz) can of tomato paste
1/4 cup chopped raisins
1/4 cup pine nuts
1 teaspoon cinnamon
1 teaspoon unsweetened cocoa powder
1 teaspoon red pepper flakes
2 Tablespoons red wine vinegar
Freshly ground pepper
1/4 cup water
1 baguette or garlic ciabatta, split open, cut in 4 servings
1/4 cup Pecorino Romano
1/4 pound provolone, grated
Preheat the oven to 375˚F.
In a large sauté pan, heat the olive oil over medium high heat until it is almost smoking. Add the garlic, onion, celery, thyme, eggplant, and a couple pinches of the kosher salt. Stir, and reduce the heat to medium. Cook until the eggplant turns golden, about 6 minutes.
Add tomato paste, raisins, pine nuts, cinnamon, cocoa powder, and reds pepper flakes and cook for 3 more minutes.
Add the vinegar and allow it to evaporate.
Add salt and pepper to taste and then the water. Cook for 5 minutes more and remove from the heat.
Place the baguette or ciabatta in the oven or toaster until golden. Top each piece with the caponata mixture and some of both cheeses. Put in the oven and bake until the cheese is melted.
Enjoy immediately.