Restaurant Recommendation: Uptown Grill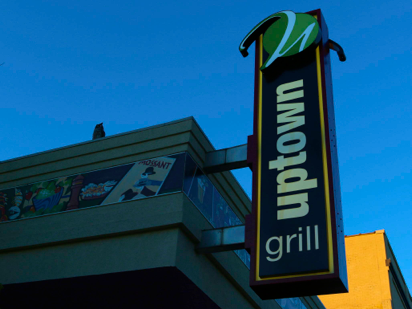 You know those roadside signs saying what lodging, gas stations, and restaurants are at the next exit? The food on those is almost always fast food that lacks in nutrition and wholesome ingredients. Such was the case as we drove on highway 80 through Illinois eastward today. Our daughter hadn't had a decent meal in weeks as the camp food was sub par. We were hungry, but fast food wouldn't meet the need.
That's when we saw a diminutive sign lined up with the unacceptable choices on one of those exit signs that didn't seem like a chain. Uptown Grill it said. We couldn't see anything that looked like "uptown" from the road. It seemed like nowheresville but we got off at the exit and followed the little signs 3 miles like bread crumbs into LaSalle, Illinois, a little town that has seen better days. But amid it all was this delightful oasis of a delicious restaurant that we had stumbled on all because of rumbling stomachs and a tiny sign.
I had a delicious salad with figs, gorgonzola, bacon, and candied walnuts topped with a grilled homemade salmon burger. Our daughter feasted on pepper encrusted yellow fin tuna served with sugar snap peas and a tiny side salad of spinach, egg, bacon and pine nuts. She topped it all off with creme brûlée, and was thrilled to be full for the first time in three weeks.
There were several fun things about this place besides refreshingly real food which isn't so easy to find off the highway. Their menus were on electronic tablets, which is probably the wave of the future, but the first time we came across it. Also, burgers were delivered to tables with lit sparklers propped up in them in honor of the holiday.
So if you find yourself south of Chicago driving on highway 80, do yourself a favor and stop by this delightful restaurant. It is off exit 77.
Meanwhile, maybe more good, non-chain places will find their way onto highway signs? We hope so.