Sunset, Moonrise & Urchins in Castine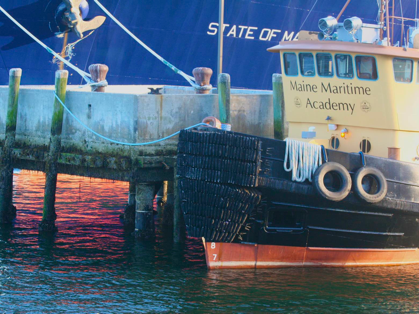 It is a nine hour trip to the cabin and once unpacked our tradition has become to rush off to Castine, Maine for a legendary lobster roll (see photo!) followed by a sunset walk on a nearby beach, reveling in the fact that we are here once again. Castine is home to the Maine Marine Academy and is steeped in Revolutionary War history as the British took over that spot to run operations out of during the war. In the first photo below you can still see the canal the British dug across the tip of the peninsula to do a surprise end-run on the Americans. This was an amazing project to try to achieve secretly, and I'd love to read more about it.
The sunset was lovely as you can see in the incremental photos below; so far we've never had a bad one from there. My daughter loves to find shells and this beach is densely covered in mussels. One one year she found an urchin shell. But today she found countless numbers of them and collected easily over a hundred! She was so thrilled, it was fun to see. She plans to make wreaths out of them when we are home. Hers is the figure you see in the sunset, joyously hunting with freezing wet feet. You can also see part of the urchin stash at the very bottom of this post.
Our next gift from on high was a harvest moonrise simultaneous to the sunset which is an infrequent occurrence, I understand. My attention snapped back and forth between the two, incredulous. We are certainly blessed to be here and feel God smiling on us. The photos I took of the moonrise I thought were pretty good given that I did not have a tripod! Enjoy my photos below.