Becoming Official Hospital Clergy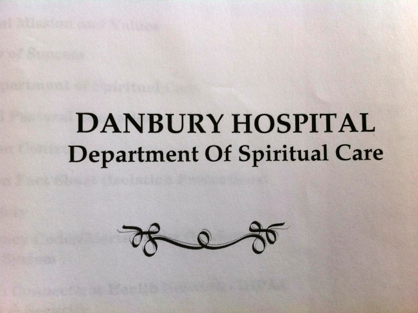 It's an interesting commentary on my life as a Christian Science Practitioner (a professional healer) that in my 21 years here I had never been to the hospital until yesterday, when I took part in an induction orientation to become recognized hospital clergy.
I have worked with people in the hospital by phone, but am now cleared for both notification and visitation, bypassing intense security. As part of new procedures as defined by the new HIPAA law, every patient admitted to the hospital will be asked about their religion and whether or not they want someone notified that they are there. This will work even if someone I don't know (or here from out of town) is admitted; they can say they are a Christian Scientist and I will be contacted.
Danbury hospital is enormous and is in the process of getting a whole new tower. I spent Valentine's Day hearing about hand-washing (both upon entering and leaving a room, scrubbing long enough to sing the Happy Birthday song twice), what the different color code announcements mean, and what to do in the event of a fire… I filled out forms, got my photo taken for a badge, and now will be barraged with daily update emails.
This new official relationship represents progress for all the hospitals in the Western Connecticut Health Network as well as for my ministry locally.