Recipe: Black Pepper Tempeh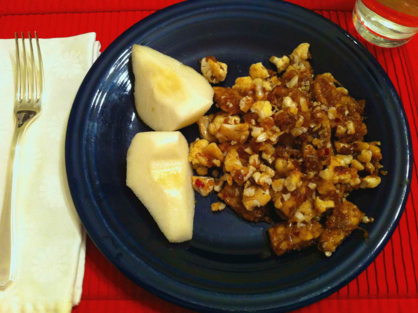 This is what I made James for Valentine's Day. It it so much more delectable than either it sounds or looks! We love it; it is truly a treat.
Be sure to buy organic tempeh to avoid Monsanto's GMOs. For those of you avoiding soy, tempeh and tofu are the traditional forms of soy protein that are still good for you as long as it it is organic. We buy ours at Trader Joe's.
I never would have figured this recipe out on my own; my hat is off here to Heidi Swanson, whose book, Super Natural Every Day, is shown below. It's one of the best tempeh recipes I've found.
Black Pepper Tempeh
3 tablespoons coconut oil
3 shallots, thinly sliced
1 teaspoon red pepper flakes
15 cloves of garlic, crushed
1 tablespoon peeled and grated fresh ginger
3 tablespoons of tamari or soy sauce
1/4 cup natural cane sugar
2 tablespoons water
8 oz organic tempeh, sliced pencil-thick
1 small cauliflower, tops only, chopped very fine
1 teaspoon freshly ground black pepper
In a large skillet over low heat, combine the coconut oil, shallots, red pepper flakes, garlic and ginger. Cook slowly, taking care not to brown the ingredients. Stir occasionally until soft, about 15 minutes.
While garlic is cooking, whisk together tamari, sugar and water in a small bowl.
Increase the temperature under the skillet to medium high and add the tempeh. Stir gently to get the tempeh coated. Add the tamari mixture and stir again to coat. Cook for two minutes and them add the cauliflower. Stir and cover. Cook for about three minutes. Uncover, turn up the heat even more, and cook until the cauliflower and tempeh begins to brown a bit. Remove from heat and add in black pepper. Serve immediately; serves three.
Enjoy!