The Sheep Only Hear the Shepherd's Voice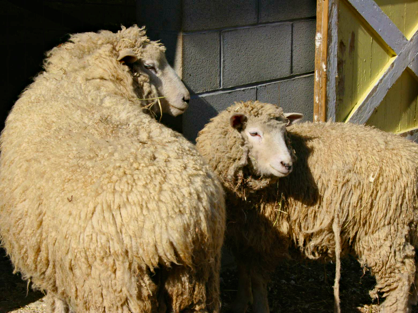 Jesus said, "the sheep follow him for they know his voice." (John 10:4)
I heard a story about this the other night that has had me thinking.
A professor knew the Bible's analogies of the sheep and the shepherd very well. One day he had a chance to talk with a shepherd out in the fields and was delighted to ask him some questions about sheep and shepherds to gain a better understanding of the Bible's message. He asked him about whether sheep actually know the shepherd's voice. The obliging shepherd told him to watch as he called out to the sheep. Every head in the flock immediately raised. He called again and they all came trotting over. The professor was impressed by their instant obedience, and as the two chatted some more, the shepherd explained that they responded that way every single time. Before the two men parted, the shepherd asked the professor to try calling to the sheep exactly as he had done. The professor imitated the shepherd's call, but not a head lifted. He tried again, and still there was not any recognition, nor any response.
I found this is very instructive; the sheep only hear and always respond to the shepherd's voice.
Another name for the shepherd in the Bible is the Christ which Jesus fully embodied. Mary Baker Eddy says, "Christ is the true idea voicing good, the divine message from God to men speaking to the human consciousness." (SH 332) This is still going on today in what the Old Testament calls "the still small voice."
I've been thinking about how each of us actually only hears and is always obedient to that voice, regardless of appearances. Truly, we can't even hear let alone respond to the lies that are sometimes promulgated. We are never at risk of being led astray, since our innocency and devotion protects us. It doesn't matter what seems to be going on around us. The shepherd meets all our needs (see Psalm 23) when we stay close to him, listening to his voice and obeying his call.
This applies to all sorts of situations where people interact. Peer pressure, bullying, coercion, jealousy, manipulation, competition, etc depend on listening to voices other than the Christ, and are resolved when loyalty and focus returns to the shepherd instead of fixation on other sheep. And every sheep can trust that all the other sheep are directly responsive as well to the still small voice of Christly thinking. The shepherd is reliably and continually insuring the sheep's well being and is the only influence that always has presence or power.
Likewise, sin, sickness, pain, cheating, addiction, apathy, fear, trauma, etc do not stem from the shepherd's voice. Humbly reverting back to the flock – to listen only to the shepherd's voice and routinely respond in obedience to His call every time – restores harmony.
So practice listening to that still small voice within that is perpetually voicing good. Cultivate a trust in it and faithfully follow where that leads. Understand that others can do the same, because wherever they find themselves, the good shepherd is there assiduously taking care of them.
Let each of us respond only and always to the voice of the Christ.
"And other sheep I have, which are not of this fold: them also I must bring, and they shall hear my voice; and there shall be one fold, and one shepherd." (John 10:16)

Not only do we realize in actuality we can always and only hear and obey that inner voice but everyone else can do it as well. So when you think of someone who is answering an impostor's call (so to speak) and is beleaguered in any way, know that they have that direct connection with the shepherd. He is on the scene. When impostors feign a call to the sheep, the sheep don't even have to look up. The shepherd is still there keeping them safe and caring for them.
I foresee all of us together as one fold… all of mankind obeying their best conscience, obedient to their highest good, innocent, devout and humble as sheep with an alert, competent, universal, loving shepherd protecting and nurturing each and every one.