Book Review: Sophie Dahl's Cookbooks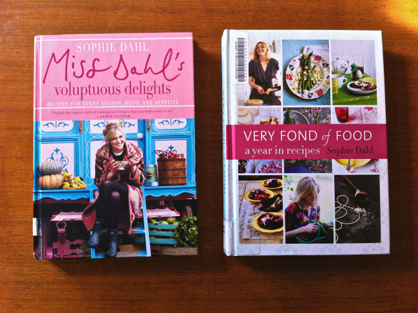 Thank goodness for inter-library loan! When I read on my food blogs about these cookbooks, I had them shipped in from around the state and have been hogging them for as may renewals as possible before I have to part with them. These books were originally recommended for their excellent food photography, but I found myself reading them cover to cover, really liking Sophie both as a writer and a cook, and finding the great photography simply a natural augmentation to that.
A food loving ex-model, Sophie Dahl – the granddaughter of the beloved Roald Dahl –has a no-nonsense view I resonated with. Here is a bit of what she has to say:
• "There are many things over which we have no control, but the day-to-day managing of our own bodies should not have to be a part of that uncertainty. I suppose the question is: how can we incorporate a way of eating into our lives that is sensible, enjoyable, maintainable and practical? …I really don't believe in cutting out food groups or subscribing to militant, forbidding diets, so you will not find that here. What I do believe in is moderation and balance, because both have served me well, and I try on a daily basis to let those two things be my guide."
• "I believe that if each of us makes a concession towards being a conscious consumer, we are in turn making an active contribution to looking after our lovely planet, which has enough exterior torment going on in it without us adding to it."
• "I like honest cooking that speaks for itself, cooking that begs for seconds and a satisfied smile, and I truly hope that resonates from my home to yours."
Sophie has lived in England, the US, and India, but has traveled widely as well, picking up culinary tid-bits wherever she finds herself. There is a big range of food here. I am unlikely to try making Earl Grey and Lavender Ice Cream or Elderflower Jelly, but there is a lot here that I not only want to make but will make. For example, I'll be trying her fish cakes, her baked eggs with Swiss chard, her pea/pesto/arugula soup, her miso soup, her wasabi salmon fillets, her lentil salad, her crab cakes with poached eggs and spinach, her wild rice risotto, her quinoa salad with tahini dressing, her fennel frittata, and her decadent baked apples, to name a few…
Check out these five-star cookbooks out; you'll be glad you did!