Visiting My Solo Show During the Apple Festival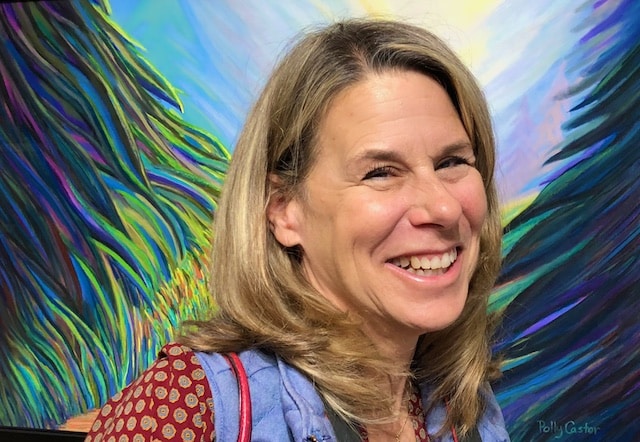 We had a nice weekend. Friends (fellow blog readers of yours) from Indiana visited us on their last stop of their three month trip (they went as far as Prince Edward's Island). Above is Julie from the food blog YatesYummies, and is the maker of the Best Eggplant Parmesan I've ever eaten; she's shown with a painting from my show behind her.
We went together to see my one woman show in the gallery at the Southington Community Cultural Arts during the mobbed 50th Annual Apple Festival, which is why I chose to have my show there during this time. It was fun to see people really enjoy my artwork and be inspired by it.
Then we stood in a long line for the famed apple fritters sold by a local church, and participated in a street drum core. Back at our house I made them some blog classics:
Salad with Roasted Beets, blood oranges, carrots, radish,  jicama, blueberries, oak leaf lettuce and my Strawberry Basil Dressing
and for desert our Ginger, Carrot, Hazelnut Cake with Molasses Frosting
On Sunday, we went to church together, got a tour of their colossal RV, went out for a 4 hour lunch, and they bought a painting of mine–one that  I only did last week! So grateful for good conversations, good friendships, and good times.
Check out my photos below of a nice weekend, and try to get to see my show this month if you can!