Book Review: Making and Keeping Creative Journals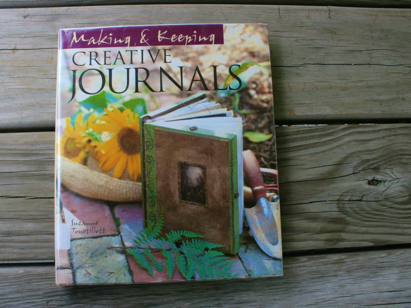 The information in this book shouldn't be so hard to find. There is a class at the church creative arts camp I attend each fall where they make their own journals, and they are lovely indeed. I keep choosing the painting class instead, but I'd still love to work in a journal that I made myself, particularly with paper of my own choosing. Two years ago I started the quest to teach myself this art of bookbinding and after looking at many books, websites and blogs, I had yet to see instructions that I felt were followable to achieve the results I would be satisfied with. So after chasing my tail so long on this, I am additionally delighted to find this straight forward book on journal making. I give it five stars, for finally this information is clear and all in one place.
Comments from the book about journaling:
"When it's all said and done, why you journal – and what form the journal takes – is not nearly as important as actually undertaking the process itself. The reason may be obscure or quite purposeful, but it bears repeating that the creative effort you make brings its own reward."

"Everything you think about putting down on paper is worthy of your time. A journal is no place to be self-conscious. Be spontaneous."

"All it takes is time, energy, and a curiosity to find out more about the most fascinating subject in the world: yourself."
Here are some quotes in the book that I liked:
"Life can only be understood backwards, but it must be lived forwards." Soren Kierkegaard

"Writing a journal means that facing your ocean you are afraid to swim across it, so you attempt to drink it drop by drop." George Sand

"Youth is happy because it has the ability to see beauty. Anyone who keeps the ability to see beauty never grows old." Franz Kafka

"The written word remains. The spoken word takes wing and cannot be recalled." Horace

"Every artist dips his brush in his own soul, and paints his nature into his pictures." Henry Ward Beecher

"Nature without exercise is a seed shut up in a pod, and art without practice is nothing." Pietro Aretino
If you want to try making your own journal, I've just saved you some time in finding a good resource. This book can show you how to make something that is just right for you.