Recipe: Warm Tomato, Olive & Arugula Salad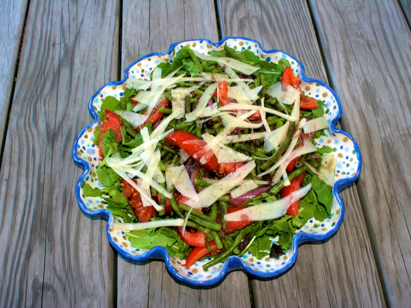 Both arugula and green beans are in season in the garden right now, so this delicious salad is a good way to pair them. This could be a side salad or used as a main dish. You could also consider adding roasted pine nuts or tuna to make this a heartier salad, but it is great as is. It was especially fun to use this scalloped platter I made in pottery too! Below in the photo, you can see a single portion…
Warm Tomato and Arugula Salad with Olives
3 tablespoons balsamic vinegar
6 cups baby arugula
1 tablespoon olive oil
1 medium red onion, sliced into rings
10 kalamata olives, pitted
6 ripe plum tomatoes, seeded and cut into wedges
1/2 pound green beans, steamed until tender
3/4 teaspoon fresh thyme leaves
Coarse salt and pepper
Shaved Parmesan or crumbled feta (optional)
In a small pan simmer the balsamic vinegar over medium heat until reduced by half. Set aside. Place arugula on a large platter and set aside.
In large skillet, heat the oil over medium heat. Add the onions and olives and stir-fry until the onions are soft, about 4 minutes. Add the tomatoes, beans and thyme and cook, stirring, until hot ( with the tomatoes remaining firm) about 2 minutes. Remove from heat and season with salt and pepper.
Top the arugula with the cooked vegetables and drizzle with the reduced balsamic. Top with the cheese, if desired. Serves 4.
This is wonderful! Give it a try…
(To read a review of the cookbook I got this recipe from, click here.)