Recipe Ideas For Scapes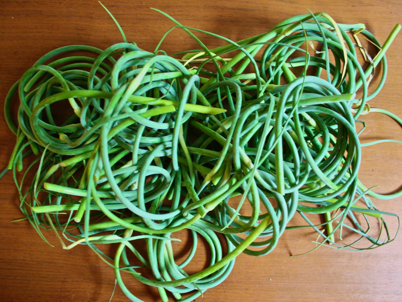 Garlic Scapes are the flower shoots of the garlic bulb and farmers cut them off to encourage the bulb to grow plumper. I first bought local "scapes" from the Farmer's Market in the last couple years, and this year my CSA is over run with them. To eat up the scapes we're getting weekly, we'll have tried all these ideas suggested by our Shared Harvest community in an attempt to use them up. Fortunately, scapes store well in the refrigerator, and they have been delicious in everything we've put them in. Here are some ideas:
Add sliced scapes to any stir fry recipe.
Slice and cook them in almost any sauce recipe.
Great in guacamole and fresh salsa, too.
Chop & add to softened cream cheese.
Use them in anything as you would green onions (they're just better.)
Good in salads, on bruschetta, and pizza.
An excellent addition to Asian cuisine.
Garlic Scape Pesto (click here for recipe)
Garlic Scape Hummus: (click here for recipe)
White Bean and Garlic Scapes Dip
From the NYTimes June 8/2008
Time: 15 minutes
1/3 cup sliced garlic scapes (3 to 4)
1 tablespoon freshly squeezed lemon juice, more to taste
1/2 teaspoon coarse sea salt, more to taste
Ground black pepper to taste
1 can (15 ounces) cannellini beans, rinsed and drained
1/4 cup extra virgin olive oil, more for drizzling.
1. In a food processor, process garlic scapes with lemon juice, salt and pepper until finely chopped. Add cannellini beans and process to a rough purée.
2. With motor running, slowly drizzle olive oil through feed tube and process until fairly smooth. Pulse in 2 or 3 tablespoons water, or more, until mixture is the consistency of a dip. Add more salt, pepper and/or lemon juice, if desired.
3. Spread out dip on a plate, drizzle with olive oil, and sprinkle with more salt.
Yield: 1 1/2 cups.
(See below for picture of this dip)