Muhammara Recipe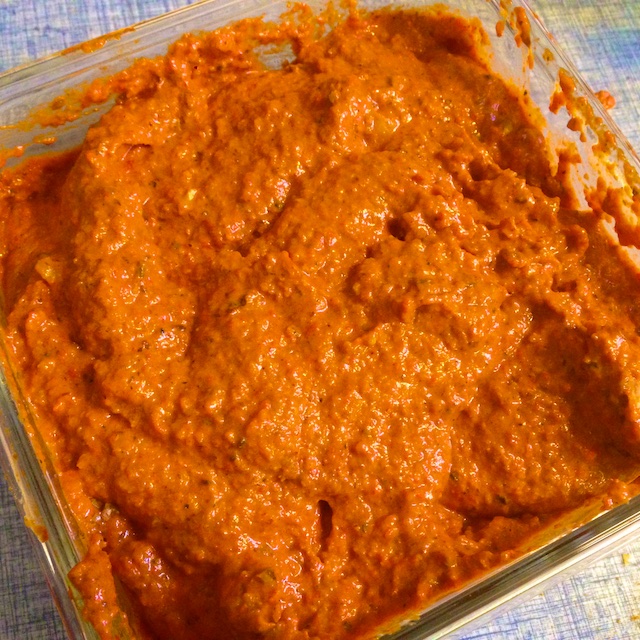 Mahammara is a traditional middle eastern red pepper and walnut appetizer, usually served with warm bread, pita, or crackers. I've changed it up a bit.
It was sumptuous as a sauce for our almond crusted halibut, and good for sautéing with shrimp and basil to go over spaghetti squash.  Both dishes are shown below.
In the last photo below you can see the rest of the mahammara spooned out on freezer paper and frozen for the next time I want to transform something from ok to fabulous; those frozen piles of yumminess are now in a ziplock bag in the freezer.
Yesterday I taught you to roast red bell peppers, so now is a good chance to use them!
1 lb carrots, cut into 1/2″ thick coins
3 red bell peppers, roasted
1/2 cup olive oil (plus more for roasting)
1/3 cup fresh lemon juice
3 garlic cloves, minced
1 Tablespoon ginger, peeled and grated
1/2 teaspoon ground cumin
1/4 teaspoon cayenne
1 1/2 cups walmuts, toasted
salt to taste
1 teaspoon cumin seeds, toasted for garnish (optional)
Preheat oven to 400ºF.
Put the carrot coins on a baking sheet or pyrex and roast them until caramelized, about 55 minutes. Simultaneously, roast, steam, de-seed, and peel the red bell peppers as per here. Also toast the walnuts.
Place the carrots, peppers, 1/2 cup olive oil, lemon juice, garlic, ginger, ground cumin, cayenne, and walnuts in a food processor. Pulse until smooth and season with salt.
Use this mahammara as an appetizer with pita, crackers, or warm bread as is traditionally done. Or get creative and pair it with your favorite protein. It was really dreamy, and totally worth the effort, with that halibut as shown below.
Try it and enjoy!