Photos of Eating Out in Annapolis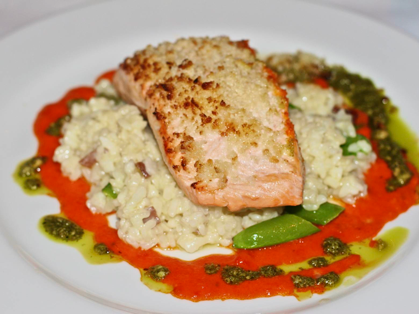 Restaurant food in Annapolis was good. I only ate out once a day, otherwise subsisting on Luna bars and motel buffet yogurt, but when I did, I enjoyed it!
The dish shown above was Parmesan encrusted salmon on green bean risotto with roasted red pepper sauce and pesto garnish. Below, were two night's worth (at two different places) of basically the same sublime dish: crab, mango salsa, and avocado salad. The smaller serving had a luscious passion fruit sauce; the other was served with a pesto sauce. Both were yummy but the bigger one was better; it was the right temperature and the ingredients were more of a perfect ripeness. I'll return for that! Then you see crab encrusted scallops which were cheesy and divine.
I did not take pictures of the surroundings of the fancy food with the exception of water and boats as I came and went. However, when I stopped on my way out of town for an omelet at a chrome diner, it was the reflective surroundings I was captivated by more than the food. Maybe I was just in a reflective mood by then? See those photographs at the bottom.