Recipe: Green Bean and Red Onion Salad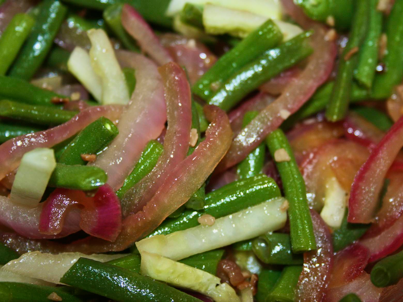 This is a delicious, easy salad that is great right out of the refrigerator.
I made it with beans from our shared harvest program that you can see in the picture below. Half of them were green and half a purplish black so I was very surprised to find them all green after steaming! How is that possible?
Below you can see this summer side on a plate with leftover (whole wheat panko encrusted) tilapia (warmed up). We just added some cut up fruit for a great instant meal…
This side dish recipe is from The South Beach Diet Cookbook, page 127, as follows:
2 pounds green beans, steamed and chilled
1 cucumber, seeded and julienned
2 red onions, sliced and separated into rings
3 cloves of garlic, minced
3 tablespoons extra virgin olive oil
1/4 cup red wine vinegar
2 tablespoons water
1 teaspoon sugar (or sugar substitute)
In a large bowl combine the beans and cucumber.
In a small skillet, saute the onion and garlic in 2 tablespoons of the oil until tender but not browned. Stir in the vinegar, water and sugar and simmer for two minutes. Stir in the remaining oil. Spoon the onion dressing over the bean mixture. Makes six servings.
Try it and enjoy!