My Parent's 61st Anniversary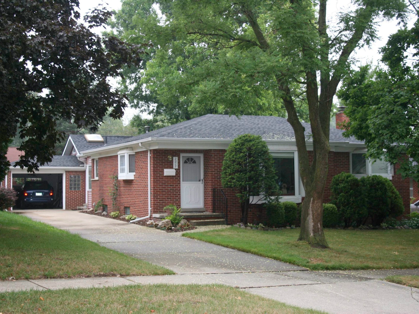 Today is my parent's 61st wedding anniversary. My parents have relied on each other so much, one wonders if either one can survive without the other. They have had a model marriage, and their devotion to one another is an inspiration.
They met in Latin class in High School, and when my Dad was drafted at 18, and became an X-ray technician on a boat in the Atlantic during WWII, they wrote frequent letters through all those war years. (Too bad for us that those letters don't still exist; that would be interesting!) In this way, my mother dated an absentee man all the way through college. When he returned, he went through undergrad on the GI Bill. After that, my mother, working as an elementary art teacher, helped get him through medical school. They both married the first and only person they had ever even dated.
They were married seven years before starting their family, and I'm the youngest of their three girls. The house above is where we all grew up, with a stable, conventional home life of Dad the breadwinner and Mom the homemaker. They lived there most of their married life. My mother used to say that, "behind every great man there was a woman," and this was definitely true in their case. My Dad was world renowned in Arthritis and Rheumatism research and my mother's unconditional love, creative flair, and seamless support made that possible.
Then, after all that professional effort, my dad claimed in his later years that us three girls were the best thing he ever did. Meanwhile, in all that intervening time while my mother was home rearing us, I think she was wanting to do something more important, so it strikes me as very ironic that he came around to realizing that his children were his actual legacy. This has been very instructive to me as I live a tandem life balancing my professional world with being extremely involved in the upbringing of my children.
I also look at my dad (in a healing profession) and my mom (an artist, teacher and mother) and it is no surprise to me how I am spending my life force. In many ways I have followed their good examples because I admired them so much and accepted their standards of excellence, education, honesty, and contribution. And while my marriage is much different than theirs with regard to gender stereotypes, their values of loyalty and teamwork, have definitely been passed on in spades as jewels to cherish.
My hat is off to my parents today; 61 years is a long time to be married!