Recipe: Cabbage Casserole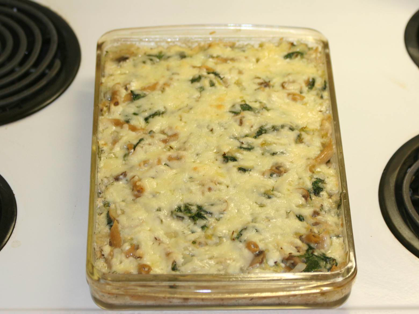 What to do with all this cabbage? We like this casserole recipe by Mollie Katzen from her revised edition of the Moosewood Cookbook. Mollie calls it Macaroni & Cheese Lite (page 126), but if you are thinking it will be Mac & Cheese, you will be sorely disappointed for it it is mostly veggies, especially cabbage. In her previous edition she called it "Russian Style," but we've solved the name problem by renaming it for what it is. In our household, as mac and cheese, this won thumbs down, while as cabbage casserole it gets thumbs up! Who said names weren't important?
I will always be remembered for the first time I made this dish, because I used a red cabbage and the thing came out purple, which can be a quite disconcerting color to eat, even though it tasted good. I've been teased incessantly about that by my children since, whenever they are casting about for a derogatory story to tell on their dear mother. So this is a mistake to be avoided unless you want to hear about it for the rest of your days!
I sometimes pair this with salad for a meal, but we mostly use it as a side dish, especially since it is better as leftovers than it is right out of the oven. Next time I make it I think we'll skip eating it right out of the oven, because the caraway seeds haven't had a chance yet to mellow in the fridge or something, and are more pronounced on that first serving. Anyway, it is most satisfying warmed up quickly as a side dish with whatever else you are featuring, and gets better the longer it is in the refrigerator, which you cannot say about a lot of things. This recipe is warm and cozy to make in the dead of winter, but it is also good to make now, when the cabbages are in season.
This time I made it, I wondered what spicy veggie sausage would be like added to this, or even tuna. You could also try adding cauliflower, broccoli, or carrots to it. I may keep experimenting with this, but here is the base model:
Cabbage Casserole
1/2 lb (3 cups) dry whole wheat penne pasta
2 Tbs butter
2 cups chopped onion
2 cloves garlic, minced
1/2 lb mushrooms, sliced
4 cups shredded cabbage (about 1/2 average head)
1 tsp. salt
1 tsp caraway seeds
1 bunch fresh spinach (stemmed and coarsely chopped)
1 lb (2 cups) cottage cheese
1/2 cup buttermilk or yogurt
2 Tbs fresh (or 2 tsp dried) dill, finely minced
black pepper (to taste)
2 cups packed grated cheddar
Preheat oven to 350˚ F. Lightly grease a 9×13 inch baking pan.
Cook the pasta until barely tender; drain throughly and transfer to a large bowl.
Melt the butter in a large deep skillet (I used a wok) and add the onions. Saute for 5 minutes. Add garlic, mushrooms, cabbage, salt, and caraway. Stir, cover, and cook until the cabbage is just tender (10 minutes). Stir in spinach, and remove from heat. Add to the pasta.
Stir in cottage cheese, buttermilk, dill, black pepper, and half the cheddar. Spread into the prepared pan. Sprinkle with remaining cheddar and bake uncovered for 20 to 30 minutes or until heated through.
Enjoy!