Great Card Game: Phase 10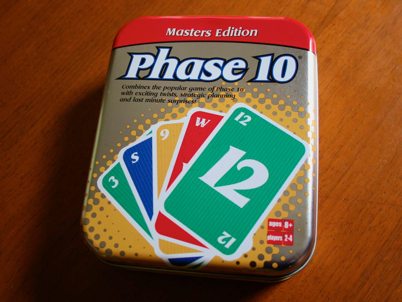 My sisters and their families just left after being here since Friday for my daughter's homeschool graduation. While they were here we played this game called Phase 10 a lot, given to us by one sister last Christmas, but not taken out of the cellophane and learned until her visit here. The tin says for 2-4 players, but we would recommend that it is best with 3-6 players. My youngest daughter described it as a cross between rummy and Uno – with a little more strategy – and more like Monopoly in length.
You are to play 10 rounds (or phases) which makes it take a while (and it is longer with more people) but you can opt to play it one round at a time and pick up where you left off. The problem with that plan is you won't want to stop! This game added a whole uproarious dimension to our visit together and I'm sure we'll continue to play it a lot this summer. Stick through an initial uphill learning curve and you'll soon be having a great time. If you buy it, be sure to get the Master's edition shown here. See some pictures below of the game in action.