Robotics Today at MIT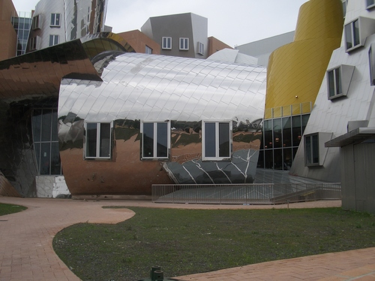 I've kicked myself all day that I didn't take my camera.  I could have had such great photos to share.  I've spent the day with my teenage son in the Robotics department of MIT, with the John's Hopkins Center for Talented Youth Program (
see here
).  It even occurred to me to bring my camera, but we've been to MIT every fall for a long time, for classes during the MIT ESP Splash program (
see here
), and silly me, I thought I'd "seen it" already, so didn't bring my camera.  But today upon arrival, I found that the amazingly unusual architecture that we'd admired from the street at MIT on other visits actually houses CSAIL (Computer Science and Artificial Intelligence Labs (
see here
) on its nine bizarre floors. And that is where we were to be today! (On other visits, my son had claimed this building was built as a sobriety test for the police…)  The picture, above, alas is not mine, but borrowed from another fellow traveler to give you a taste.  Inside, everywhere you turn was a potential photograph, and you can expect I will return next November to do it justice as a proper photo subject.
But what I can't take another time is the robots we were privy to seeing and touching in the lab today.  Totally cool!   In particular, we spent some time with their Automatic Car: (see here) a YouTube clip of it from the DARPA Urban Challenge.  We also spent time with their Automatic Forklift (see here…. and see here)  I could have had exceptional photos of both! Alas.
My son's word for the day? AWESOME!