Our Daughter's Ceramics from This Semester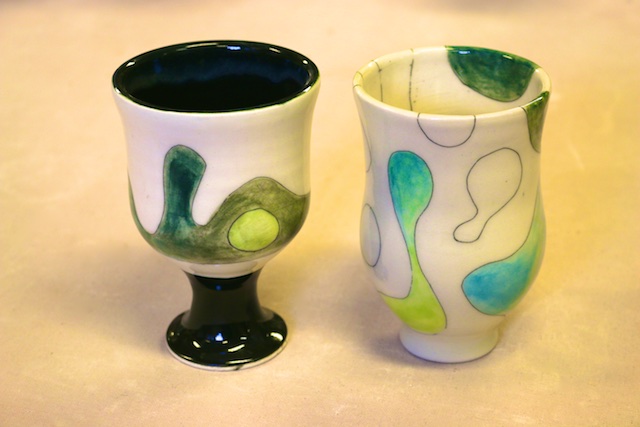 On Wednesday, we picked up our youngest daughter from her junior year at Juniata, where she's majoring in Physics with minors in both Math and Ceramics.  Blog readers have enjoyed watching her ceramics prowess evolve, and this post is the next in that series.
This term she took Advanced Ceramics, and did several projects of her own choosing. She made goblets and tumblers, created her own glazes, including making lots of test tiles, and made some really remarkable flutes and whistles.
First below you can see some of the tumblers and goblets she made. Then you can see the few test tiles she deemed worthy of keeping, as well as her dumping hundreds of others. (I took also a photo of the shards of her smashed experiments we watched her enjoy breaking.) Below that you can see the flutes and whistles, all of which have beautiful tones. She even played me a melody from Greig on one of the flutes! Then lastly, you can see the cup of hers that was in the juried show at the national ceramics conference a few months ago.
It is so great to have her home, even if it is only for a short time.