Using a Viewfinder for Small Vignettes from a Magazine (Sketchbook Ideas #3)
This was a fun exercise and one you could keep on doing indefinitely.
First make a viewfinder out of a 4″ piece of paper by cutting a 2″ square hole in it.
Choose no more than four drawing implements to use on each page you work on. I tried different combinations with different colors of paper as noted below.
Make a grid on your sketchbook page of 2″ squares. (I used a ruler.)
Now find a magazine and use your viewfinder to find small vignettes to draw. I did all these below, three pages of grids of 12 vignettes each, all using one single magazine (an old Architectural Digest languishing in my office). At the very bottom of the post you can see my viewfinder for some of the squares I drew.
I spent about five minutes on each square. You can start and stop this activity, and easily pick it up to do a few more whenever time allows. It is a fun way to keep your hand in drawing, with zero pressure. Because the motif to be drawn is so small, it is unintimidating.
Each little vignette you choose is a fresh, but minute, challenge. What composition will you choose? What will you leave in and what will you omit? Which of your four pens/pencils will you use for each part? Which box will you use for how it looks on the grid on your page?
Try this exercise and I think you'll find it not only fun, but skill enhancing. It also encourages an expanding compositional sense. You'll get more familiar with your tools, and the end result looks cool!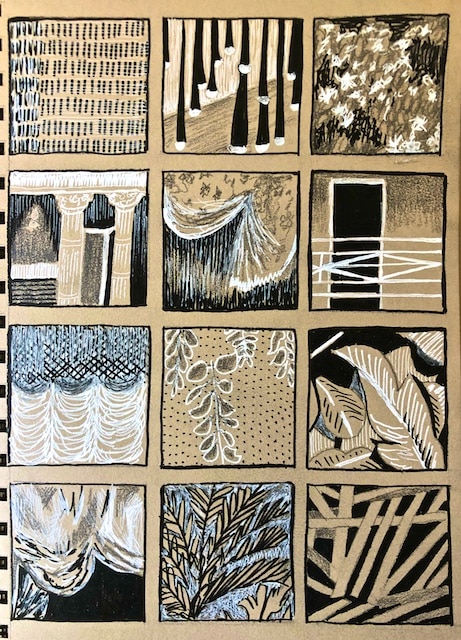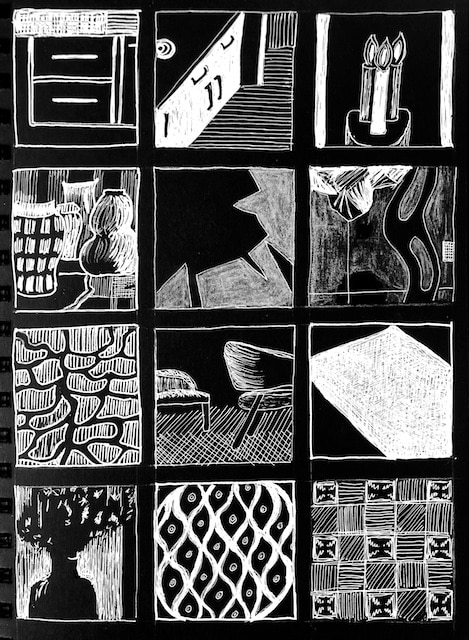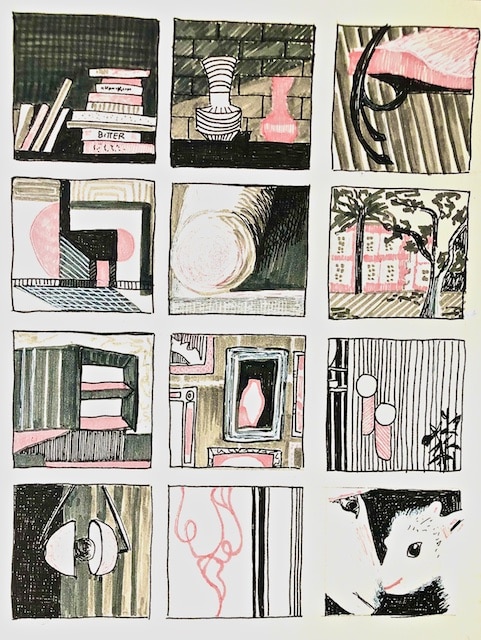 Here are some photos of vignette's I used. Can you find the drawn versions in my sketchbook grids?