Balsamic Roasted Mushrooms (Recipe)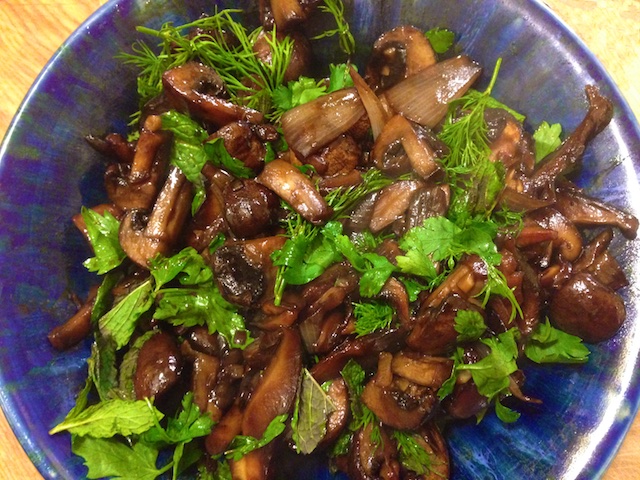 Roasting mushrooms in balsamic lends a depth of flavor that allows them to be the star of the recipe instead of only a backup player. And thankfully here the texture is not rubbery but succulent instead.
The two different garnishes lend two different feelings to this dish. One my husband prefers, the other one I do, so try it either way, or use both!
The first two steps may be done in advance and then it all comes together quickly.
Recipe for Balsamic Roasted Mushrooms
Reduce:
1/2 cup balsamic vinegar
Roast:
2 lbs mixed mushrooms (cremini or baby bellas, mixed with 8 oz of shiitake) wiped of grit and quartered
1/4 cup (minus two tablespoons) of above balsamic reduction
4 large shallots, peeled and quartered
3 tablespoons olive oil
1/4 teaspoon red pepper flakes
kosher salt
Freshly ground black pepper
Saute:
1 tablespoon olive oil
(roasted mushrooms and shallots from above)
2 tablespoons of the balsamic reduction
1 shallot minced
6 garlic cloves, minced
1/2 cup white grape juice
Garnish:
1/4 cup fresh flat leaf parsley
4 fresh dill sprigs
4 fresh chives
1/4 cup toasted marcona almonds, chopped
salt and pepper
Preheat your oven to 400ºF.
Set the 1/2 cup of balsamic vinegar to boil in a pan on the stove until it reduces by half. (Enjoy the sweet aroma filling your house!)
Mix together the mushrooms, quartered shallots, 3 tablespoons olive oil, 1/4 cup of the balsamic reduction (saving two tablespoons for later), red pepper flakes, salt, and pepper in a baking pan. Mix until everything is well coated, and spread it out so it is in a single layer. Roast for 25 minutes, until the mushrooms are tender and dark brown.
In a large saute pan over medium heat 1 tablespoon of olive oil. Add the roasted mushrooms and shallots, together with the minced shallot and garlic, and cook, stirring until the garlic and shallots soften. Add the white grape juice and the remaining two tablespoons of balsamic reduction, and cook, stirring until the liquid has evaporated.
Remove from heat, add salt and pepper, and toss with herbs, or the marcona almonds, or both.
Serves four.
Enjoy!