Perfect Potato Hash (Home Fries Recipe)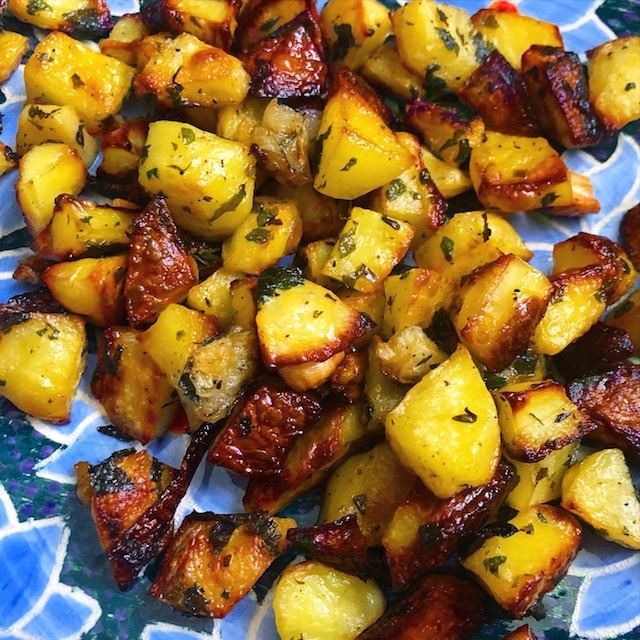 The holy grail stops right here. Have you been wanting the perfect potato hash or home fries? Look no further. This is how to make them. They take some time bit are totally worth it.
If you want them spicy, add a shake of cayenne, or red pepper flakes. We prefer them just plain as explained below.
They are great served with anything, but I especially love them with eggs. Below I served them topped with crumbled kale chips and jammy poached eggs.
By the way, adding the vinegar in the boiling water helps keep the potatoes as distinct shapes, instead of getting mushy or fuzzy at the edges.
Perfect Potato Hash (Home Fries) Recipe
24 oz small organic potatoes, peeled and cut in 1/2 inch chunks
1 Tablespoon of white wine vinegar
2 Tablespoons of olive oil
2 Tablespoons of parsley, chopped
1 Teaspoon of thyme leaves
1.5 teaspoon of salt
1/4 teaspoon pepper
1 small onion, peeled and sliced into moons
4 garlic cloves, sliced
Preheat oven to 425ºF.
Place potatoes in a medium sized pan and cover them with water along with a teaspoon of vinegar. Boil on high for 7 – 10 minutes until soft. Drain.
Spread potatoes on sheet pan with the olive oil, parsley, thyme, salt, and pepper. Roast for 30 min.
Then add the onion and garlic cloves. Stir well and roast another 15 minutes.
Season with extra salt if desired.
Serve and ooooh and ahhh!