Black Felted Bag is Finished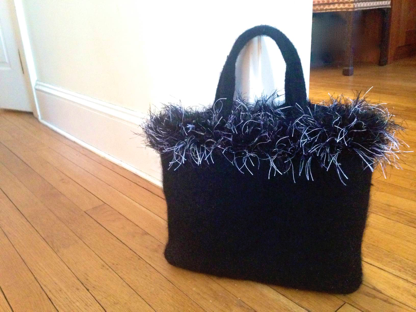 This bag has been on the knitting needles for probably two years, much of the last of that time languishing in my knitting bag completed but not assembled and shrunk. I am delighted to have recently put it together, and we shrank it last Friday.
Unfortunately, I did not get a "before" photo, but it was significantly larger before washing. Shrinking the wool, makes the bag incredibly durable, and seams disappear. I knitted in the "eyelash" novelty thread with the top bit of knitting and the effect came out just as I had hoped once it was shrunk. The size fits perfectly a three inch three ring binder, which is what we used to "block it" in front of the heater, while it dried for a couple days.
Yesterday was its maiden voyage to church; it fits my Bible study journal perfectly. I often just carry a tiny folio purse with only my wallet in it, but when I want to bring books along, I can simply pop that in this bag together with the books. My good camera will fit easily in it too. I'm happy with the resulting utility of this bag, and also the fact that it will go with almost everything I wear. But I'm also thrilled to get the knitting needles free to start my next project on them!
And yes, the bottom photo was taken out our front door. Nothing is out there but white! (I took that photo because in bright natural light the eyelash has a bit of a bluish tinge which I hadn't realized until I carried it yesterday…)