Restaurant Recommendation: Good News Cafe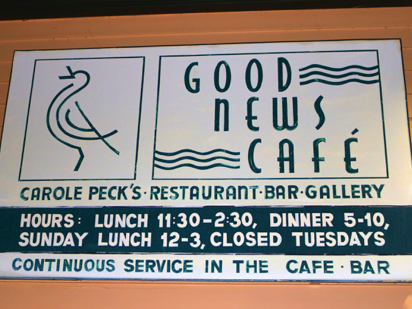 I've been here for lunch a few times in the past, and every time it was memorably terrific, so I chose this location for my birthday dinner. The three of us had a great time and our meals were remarkably delicious. The menu is extensive and takes a lot of reading, but there are many options there for every type of diet, all the way from a surplus of vegan options to wild game and cassoulet.
Hailed as one of the country's 100 best restaurants, this out of the way place in Woodbury, CT has been there a long time. The proprietor, Carole Peck, gives French Culinary tours in Provence which sound like grand fun. She says, "My cooking is what it is… Handcrafted, seasonal, local & organic as possible, definitely natural, love-inspired, pure & truthful, genuine & sophisticated."
My husband had (quite prosaically but he doesn't get it at home) a traditional chicken dinner. Our daughter had tuna, with saffron onions, crisp polenta, broiled tomato and black onion tapenade.
I had horseradish crusted salmon on a bed of spinach and beets, topped with crispy shoestring potatoes. You can see them below. It was a lovely indulgence and a fun celebration.
Check out their website here, and come for a visit if you are ever driving through CT on interstate 84. Woodbury is at exit 15 about 10 minutes north of the highway. You'll be glad you did. Watching my teenager repeatedly groan with pleasure as she ate her meal was worth the price of the occasion.
And maybe this is a future place to show my artwork?