Day 29: Kouchibouguac National Park, New Brunswick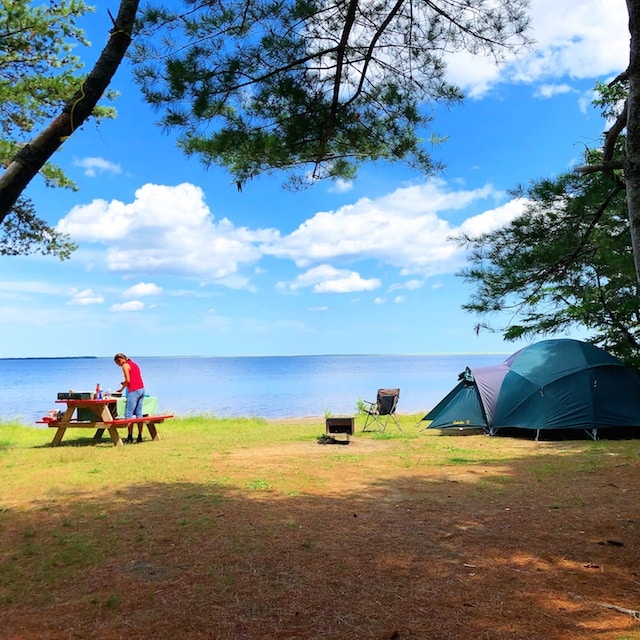 After the bustle and civilization of Prince Edward's Island, which is beautiful, but reminds me of the burgeoning Hamptons in the early days, it was a relief to get back into the wild. We are so glad we included Kouchibouguac National Park on our itinerary.
We had an unserviced (no potable water and pit toilets) hike-in campsite, and it was blissful, looking out over a large lagoon separated far off by a sand bar from the Northumberland Strait. It felt as if we were seaside, but the water was calm. We got there and didn't want to leave.
My family used to call this "tent rotting", but we stayed in our campsite all day, soaking up our view from our site only fifteen feet from the water across a small beach. While we assimilated all that we've done, and let the remote beauty of this place wash over us, we felt no need to rush around and see every facet of this park. Before we put our first tent stake in we knew we wanted to come back. This quiet paradise is only a two day drive from our home.
We felt that way before we saw the cycle of remarkable sunsets and sunrises you can see right there from our front row seat. I only include a few of the less exceptional shots of them here, since I've been saving each day's "sunset shot" for a cumulative post for the end of my trip photos. But the light here was so fabulous, it became part of what this place was about for us, in addition to quiet and rest, so I had to include some.
Also check out those cool "oasis" pods the park rents out along this shoreline. Might it be cool to rent one of those?