Spring Break Shenanigans (New Poem by Polly Castor with Photos)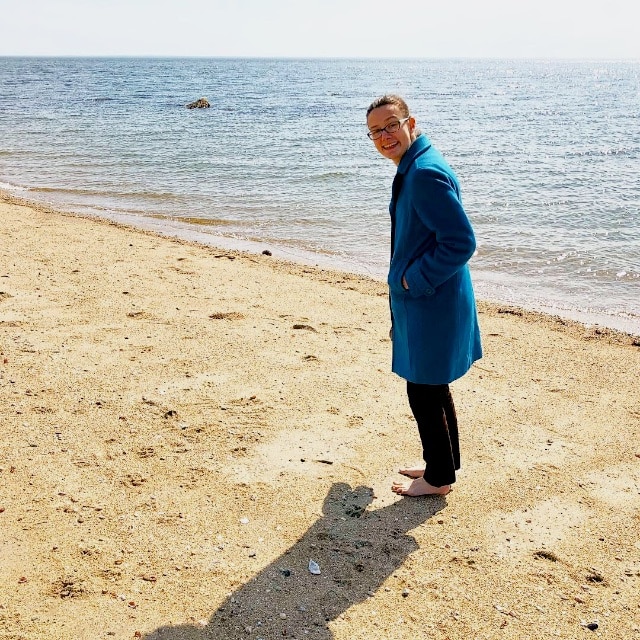 Spring Break Shenanigans
You are a senior in college
home for your last
spring break.
For the first time, you were
actually ready when I came
to pick you up, and we talked
all the way home as usual.
We feast on swordfish
with lemon pepper parsley sauce
and watch some Chef's Table,
then go to the New York
Botanical Garden's orchid show
taking photos of floral glory
in the moist, steamy warmth,
then galavant to Savers
for second hand classics, new
jeans and two dresses for you.
Today you went with me
to the shoreline
to deliver a painting
so we leapt at the chance
to walk along the beach
to Meig's Point, you in your
winter coat and bare feet,
showing off how tough you are
walking on the heaping mounds
of sharp lady's slipper shells,
and you come home
to chat with me
about what you should do
in your future (and not about
grad school which you are
already in but awaiting
further news) but instead
of learning how to build homes
live sustainably, afford land,
work in a way that is not
soul crushing,
maybe at a hardware store,
or as a tinkerer,
an alchemist,
a pastry chef and
jewelry designer,
a homesteader off the grid
who makes her own shoes,
owns a grand piano
and lives in a tiny house,
maybe a year from now
is the time to buy
a pottery wheel,
and should I cut my hair?
I listen and wonder
about it all and make
her favorite foods
like chachouka
and banana bread
and plan a trip with her
to northeastern Canada
for this cusp of a summer
her riding shotgun,
making a profession
of being dear to me
and stopping my world
anything for her
and we play Phase10 with
all our traditional banter,
and exaggerated accents,
obnoxiously skipping Papa
(who usually wins) but this
time she trounces us,
leaving me holding
all those wild cards
I never got to use.
Too soon I take her back
and oh my gosh
next time I see her
she'll be graduating!
Then what?
by Polly Castor
3/14/19
Orchid Show Photos (see here)
Chachouka Recipe (see here)
Banana Bread Recipe (see here)
Swordfish with Lemon Pepper Herb Sauce recipe (see here)