Grapefruit Salad with Dried Fruit (Recipe)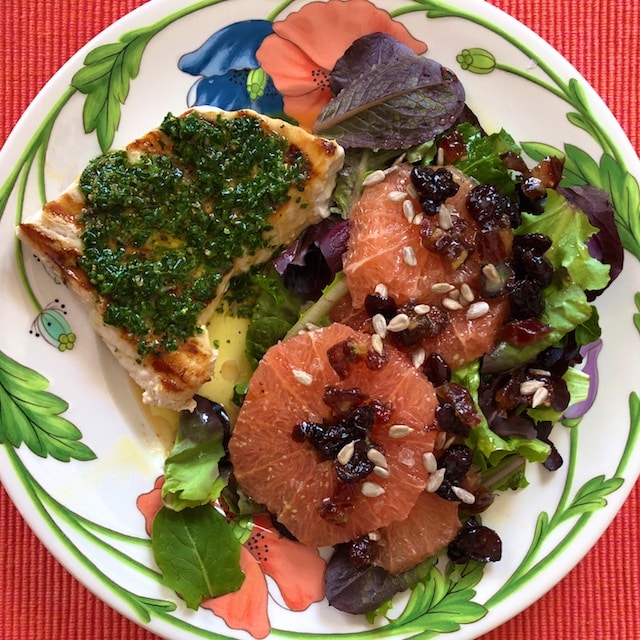 This is a perfect salad for the winter. It is both sweet and tart, and is a wonderful light addition to something heavier, so I serve it with either swordfish (above) or tuna (below) topped with our favorite Herbed Lemon Pepper Butter.
This salad is also delightfully different for those vegetarians and vegans that see a lot of the usual salads; they will appreciate this one as a change of pace!
Recipe for Grapefruit Salad with Dried Fruit
2 grapefruits
3/4 teaspoon Dijon mustard
1/4 teaspoon honey
3 Tablespoons olive oil
sea salt and freshly ground black pepper
3 Medjool dates, pitted and diced
1/4 cup dried cherries
lettuce
2 teaspoons toasted sunflower seeds
3 scallions, thinly sliced
a pinch of flaky Maldon finishing salt
Slice off the tops and bottoms of the grapefruit. Peel the grapefruit with a sharp knife, removing all the pith. Cut the grapefruit into rounds, 1/2 inch thick or thinner. Put in a bowl along with any of the juices squeezed from the trimmings.
To make the dressing, whisk the olive oil, mustard, and honey with three tablespoons of the grapefruit juice from the bowl. Season with salt and pepper. Add the cherries and diced dates to the dressing to soak for a couple minutes.
Arrange the lettuce leave on the bottom of your plate or serving dish, and then place slices of grapefruit on top. Season with salt and pepper to taste. Then scatter the dried fruit over the grapefruit and drizzle with the dressing. Garnish with sunflower seeds and/or chopped scallions. Sprinkle with a bit of flaky finishing salt. Serve immediately.
Yum!