All Wet (Metaphysical Poem by Polly Castor)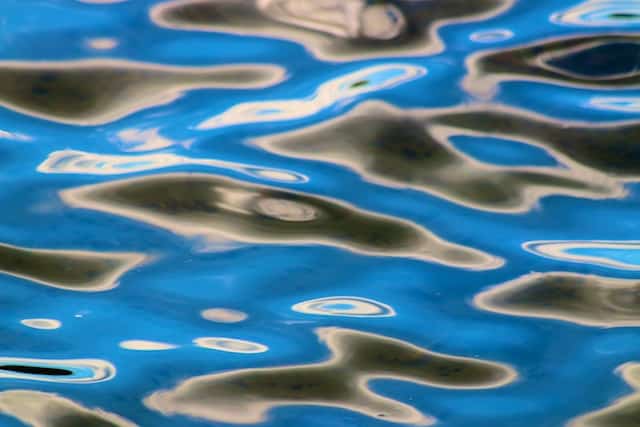 All Wet
Is the ocean in the drop
or the drop in the ocean?
Oneness is about both
quality and quantity.
The droplet could never
be separated from
its aqueous essence
and is nothing
without the whole
and all that
its nature dictates.
So it cannot be absorbed
into the sea, since
one doesn't imbibe
one's own essence
because one already has it.
Each drop expresses
and manifests all
that watery character
of the entirety,
which cannot be removed
from its identity.
Similarly, our
individual selfhood
is never lost in God,
sucked in, soaked up,
mingled and amalgamated
into some cosmic,
amorphous, spiritual vagary.
We are forever permeated
with all the aspects
of our systemic actuality–
perpetually reflecting
our Creator, unpolluted,
scrubbed spotless,
freshly innocent,
renewed every moment.
As a molecule of water
is already one
with the ocean,
distinct and eternal,
we cannot be swallowed
up by the divine.
Instead, we are absolved,
washed clean, relieved,
and exonerated from any belief
that we could ever be
separated from or unlike
our intrinsic attributes.
We are completely free
from any guilt or confusion
about the perpetuity of
our original integrity.
We are perpetually pardoned
from entertaining
any suggestion
of a lack of purity
or sense of disconnection,
or disunity,
enveloped as we are
in the infinite,
inescapable as it is
with nowhere else to be:
We are pristinely wet –
immersed and submerged in Love
absolutely everywhere,
each part specifically
proving the whole,
while the whole
defines and upholds
every part.
by Polly Castor
1/9/19
Refer to these writings
by Mary Baker Eddy:
(SH 361:16–18) and (My. 119:7–8)
The pondering of which
inspired this poem.