My Youngest's "Golden Birthday"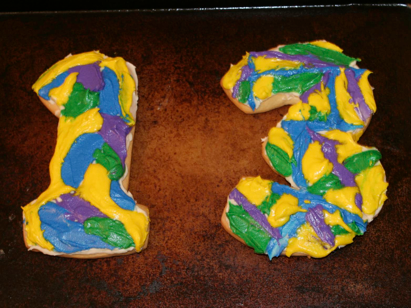 A "golden birthday" is the one birthday when you turn the number you were born on. So since my youngest turned 13 today on the thirteenth, it was her "golden birthday." As of today, all three of my children are teenagers; it hardly seems possible! We had a wonderful day…
Last night, our daughter saw the new movie The Lightening Thief with friends. She loved the movie and highly recommends it; she says it's nothing like the book or series (which she also loves) but is great none-the-less. Afterwards, she had candles in mint chocolate chip ice cream and a sleep over at her friend's house.
I got up early this morning to make a homemade veggie lasagna lunch for 18 of my deceased friend Jill's relatives which have flown in for the memorial service tomorrow. After delivering the hopefully scrumptious food, I picked up my daughter, and from that moment on, we were in birthday mode!
Since her older sister is away at college, and her brother is in Colorado for the long weekend with a church group activity, our birthday girl had her two parents to herself. I thought that might be rather dull, but delightfully, she basked in all the undivided attention of two doting parents.
She wanted us both to play a favorite game with her called Settlers of Catan, which took us all afternoon. We had a hilariously great time, and I'll modestly mention that I won! A bit more complex than many board games, this one is interesting enough to keep the attention, and we really like it. You can see two pictures of it below.
Then ironically enough, we had a hoot during our dinner out at Chili's playing a spelling game with her… only a homeschooling family would probably do that. This child has been spelling challenged all along. Recently, we've learned how to target her "right-brained learning style" and it's working! Oh my, she's making colossal progress on this. So we were trying to stump her with the hardest spelling words we could imagine and she was just thriving on it, thrilled she could often get them right. It was fun to see.
Our family tradition is to make birthday cookies in the number shape – a large set for the birthday celebrator to frost and eat, and smaller ones for everybody else. See pictures of these above and below.
Interestingly, her favorite present was a "pouch" my husband made of purple Ultrasuede for her belt to carry important stuff in, as she likes to emulate the character Kate in different book series she's loved called the Mysterious Benedict Society (see here). Kate carries a bucket tied to her waist for her essentials, and our daughter is inspired by this resourcefulness. See a photo of this item below…
Laura was genuinely happy today, feeling loved and attended to. She told me this was one of her favorite birthdays because it was so unique. When she was finally off to bed, I hugged her and told her how glad I was that she came to be with us. She me hugged back, and told me that she was very glad to get to have me as her mother. What could be more "golden" than that?