My Birthday 2018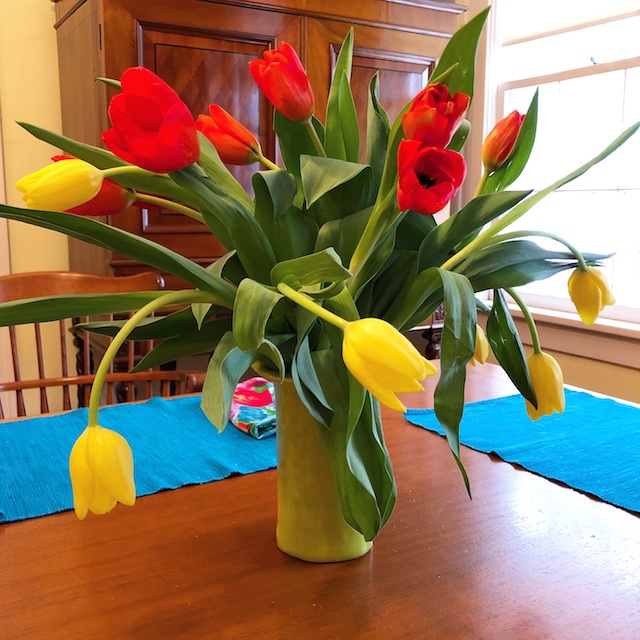 I had a perfectly lovely birthday yesterday. Thank you for all the sweet birthday wishes via email, text, social media, and snail mail! And thank you also for the delicious, leisurely lunch one of you blog readers took me out to on Tuesday. I'm so grateful you are all in my life!
I started my special day out with surprise tulips from my husband– a set on the dining room table (photo above), and another set up in my office (photo first below). And there were gifts from my husband and both sisters as you can see in the photos. Their contents will not be much of a surprise to you long time blog readers: books and art stuff! Yay! These are perfect gifts. You know me so well!
Here are links to my gifts shown in the photos below, if something interests you and you want to check it out more closely:
Interaction of Color: 50th Anniversary Edition by Joseph Albers & Nicholas Fox Weber
The Art of Plein Air Painting by Stephen Doherty
Stillman & Birn Zeta Softcover Sketchbook, Heavyweight 180lb, White, 26 Sheets, 8×10
My Absolute Darling: A Novel by Gabriel Tallent
Soft Pastels from Dakota Pastels
I spent the balance of the day working. When both the mussels I was hoping to have out at a French Bistro and our regular Wednesday church meeting were canceled because of foul weather, I made crab cakes instead, served next to a red cabbage, carrot, and arugula slaw, complete with blood oranges and tangerines on top… and talked to our kids on the phone…
Don't miss in the last two photos how perfect my husband's card was for me, both on the front and inside! That right there is enough!
Thank you to you all for making me feel special on this winter day! I love you all right back!