Meyer Lemon Vinaigrette Recipe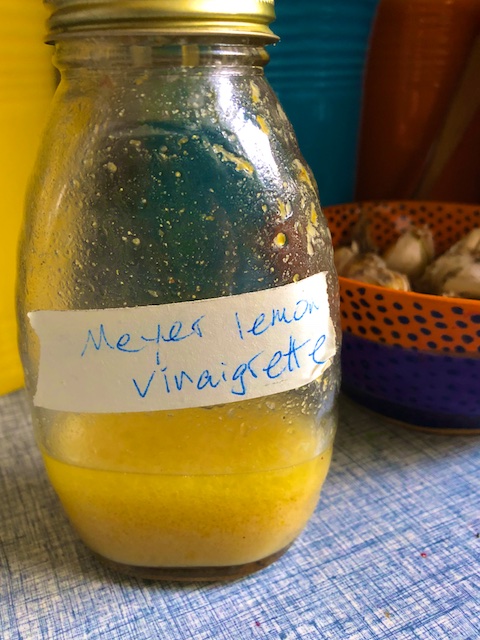 This delicious dressing recipe is destined to become a staple in my kitchen.
Meyer lemons bring so much more flavor to the table than regular ones that they are really worth the extra cost in something like this. Look for organic ones, if possible, since you will be using the zest.
Also, I recommend making this with avocado oil, if you have it, since then the dressing will remain liquid in the refrigerator. Otherwise, use olive oil; you will then need to bring the dressing to room temperature in some warm water every time you want to use it out of the refrigerator.
This dressing is particularly good on things that might be acidic, like tomatoes, or the blood oranges that I've been particularly enjoying lately. In the salad below I've used arugula, roasted beets, blood oranges, roasted kobacha squash, and toasted almond slivers, and with this dressing, it was fabulous. It will enhance most salads, and brighten their ingredients in a light, refreshing way.
Meyer Lemon Vinaigrette Recipe
zest and juice of one Meyer Lemon
3 Tablespoons champagne vinegar
1 Tablespoon Dijon mustard
1 small garlic clove, grated on a microplane
1 pinch each of sea salt and freshly ground black pepper
3/4 cup avocado oil or good olive oil
Place the first 5 ingredients in a blender and puree until smooth. Then, while the machine is running, add the oil in one steady, slow stream, until emulsified.
Put on your salad and enjoy!
Makes about 1 cup, so store the remaining in your refrigerator.