Reading Challenge for 2015 Finished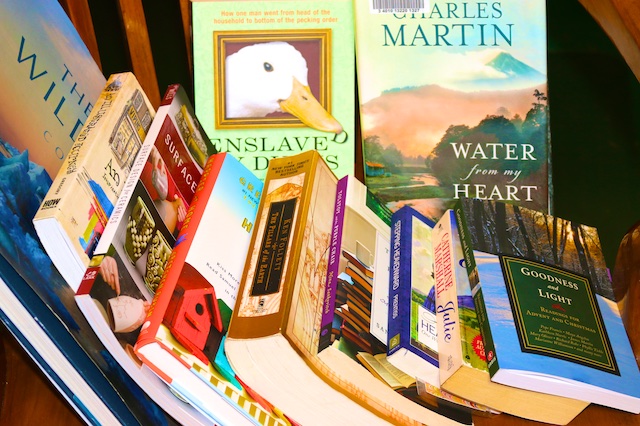 So here it is! I am actually finishing up a few of these before the New Year (Water from My Heart, Enslaved by Ducks, Goodness and Light, and Cotillion) but I am basically done. How has it gone for you?
Traveling for two months this past summer, when I was not reading regularly, set me back on this list a bit, so I compensated by reading a few easier options in a couple categories than I had planned (Jonathan Livingston Seagull, and the Lorax, for example).  I had a hard time coming up with a "funny" book, and I found no short stories that I felt were compelling, so my selection there is closer to a collection of essays. Also the Magician's Assistant is not so much set in an imaginary time as an ambiguous one. And then in some categories– like cookbooks and poetry– I read (and listed) more than one book.
I've got some clarity about what will be on the new Reading Challenge for 2016 (which will be posted on January 1, 2016). I'm excited about that and am looking forward to it. I'm open to suggestions before it is launched: what you would like to see on it?
This was fun, and if you didn't join me in this reading challenge this past year, I hope you will do the one with us that we devise for next year!
Reading Challenge 2015
Here is what I read this year in each designated category:
1.      A book of fiction you own but have not read before: Thirteenth Tale (my review)
2.     A non-fiction book you own but have not read before: Making Monotypes Using a Gelatin Plate
3.     A book your friend or mother loves: Jonathan Livingston Seagull
4.     A book by an author you've never read before: Painted Horses (my review)
5.    A book by an author you love: Rudimental Divine Science
6.    A book at the bottom of your "to be read pile": Happier at Home (my review)
7.    A book you started but never finished: Stepping Heavenward
8.    A book with a strong female heroine: Island of the Blue Dolphins
9.    A book with a male protagonist: The Storied Life of A.J. Fikery (my review)
10.    A book based on a true story: Bookseller of Kabul (my review)
11.    A book set somewhere you have always wanted to visit: Dreaming pictures: Paul Klee (Switzerland)
12.   A book set in the past: The Paris Architect (my review)
13.   A book set in the present or future: Water from My Heart
14.   A book set in an imaginary place and time: The Magician's Assistant
15.   A book set in the summer: The Island
16.   A book borrowed from the library: 750 Knitting Stitches (my review)
    17.   A book you are skeptical about: And the Dark Sacred Night
  (my review)  
18.   A book that is currently on the bestseller list: All the Light You Cannot See (my review)
19.   A book published this year but is not on the bestseller list: Astonish Me
20.  A book that was written more than 10 years ago: The Remains of the Day (my review)
21.   A book that was written more than 100 years ago: Portrait of a Lady (my review)
22.   A book of poetry: Blue Horses
, Poems from the Pond
23.   A book of short stories: Goodness and Light
24.   A book of historical fiction: Orphan Train
25.   A graphic novel: Fables
26.   A memoir: The Autobiography of Eleanor Roosevelt
27.   A book about spirituality: Science and Health with Key to the Scriptures
28.   A biography:  A World More Bright
29.   A funny book: Enslaved by Ducks
30.   A mystery: High End Finish
31.   A novel about falling in love: Venetia (my review)
32.   A book about art or artists: An Illustrated Journey
33.   A self-improvement book: Think and Grow Rich
34.   A new children's picture book: Rosie Revere, Engineer
35.   A cookbook: Plenty & Plenty More (my review), Breakfast (my review), Good Food/Good Life
36.   A beautiful book with lots of photographs: The World's Wild Places
37.   A book about overcoming challenges or limitations: Wilma Unlimited
38.   A book about progress and hope: Spirituality of Gratitude (my review)
39.   A book about making the world a better place: Lean In (my review)
40.   A book in which you learn something: Einstein Adds a New Dimension
41.   A book about your hobby: Surface Design for Ceramics
42.   A book about the environment: Secret Wisdom of the Earth (my review)
43.   A book that is edifying: DahVeed (series) (my review)
44.   A short book: Very Good Lives
45.   A really long book: Pillars of the Earth
46.   A book that was made into a movie: The Lorax
47.   A book you pick solely because of the cover:  The Connecticut Farm Table Cookbook
48.   A book with a horrible cover: Cotillion
49.   A book with a color in the title: Tolstoy and the Purple Chair
50.   A book with a number in the title: 84 Charing Cross Road
51.    A book with a woman's name in the title: Julie (my review)
52.   A book with a one word title: Delicious! (my review)