Movie Review: Into the Woods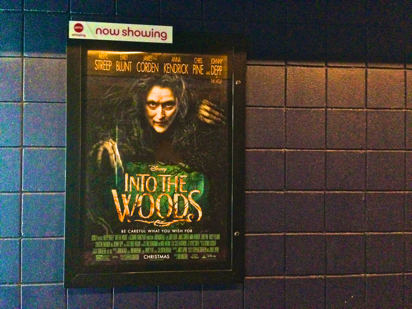 This new movie was formerly a Broadway musical. The lyrics are wonderful and the cast is all-star (including Meryl Streep as the witch and Johnny Depp as the wolf) but I am still going to give it only three stars. And even though the message, "Be careful what you wish for," might be good, there were too many loose ends and mixed messages to get a better review from me.
The scene of the two princes singing in the waterfall was intentionally and flagrantly overdone, but gave me a good laugh. And the best line was, "They brought me up to be Charming, not to be sincere." Still, I felt it played dangerously lightly with the concept of commitment in marriage, especially given that it is a Disney show for kids. And I'm tired of the "killing off the mother" practice of Disney which is perpetuated even more in this film; the only mother that survives in the end of this movie is the wicked step-mother. And why did the long lost brother and sister never meet?
Sorry, not a fan of this one. Who wants to watch a wolf swallow a girl whole?