Apple Turnover (Recipe)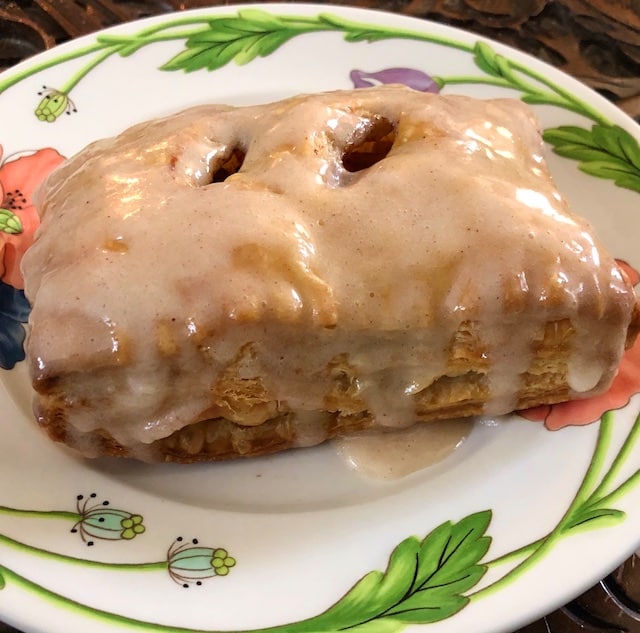 Last weekend, I posted on Facebook some apple turnovers that my husband whipped up that were simply marvelous. So many of you begged for the recipe, I am now including it here, after prevailing my husband to reconstruct what he did. Apparently, a lot of you have puff pastry in your freezer that you want to use!
These were so good that I licked my plate, and my husband said that in thirty years of marriage, he had never seen that. Just the sound of biting into all those flakey layers is beyond fabulous! These are totally worth the occasional indulgence.
Apple Turnover Recipe
Makes 4
Ingredients:
Filling:
1 sheet of frozen puff pastry, thawed according to directions
2 medium apples, peeled, cored, chopped small
1 TBSP butter
¼ cup sugar
1 tsp. cinnamon
¼ tsp grated nutmeg
1TBSP lemon juice
Glaze:
½ cup powdered sugar
2 to 3 TBSP water, milk, or half and half (This is a guess, use enough to make the glaze as thin or as thick as you like. It should be slightly runny, but not too thick or to watery.)
½ tsp vanilla
Dash of salt
Preheat oven to 400˚F
In a sauce pan sauté the apple in the butter on medium heat for about 7-8 minutes, until the apples are soft. Remove from heat and stir in the lemon juice, sugar, cinnamon, and nutmeg. Return to heat for just a minute or so to evaporate excess liquid.
While the apples are cooling, lightly flour the rolling surface and spread out the thawed puff pastry.
Lightly flour the top surface of the pastry dough and roll gently to even out edges and smooth out. You're not trying to make it thinner, just even it up.
Depending on size of sheet, cut into rectangles or squares. My pastry was 8" x 16" so I cut 4 pieces which were 4" x 8".
With your finger, dab some water along the outer perimeter of each rectangle to make a border or moistened dough around the edge about ½ inch wide. This will help to make a tight seal when you fold over part of the dough after you have added the filling.
Very carefully spoon ¼ of the apple mixture onto half of each pastry piece. BE VERY CAREFUL not to get any of the juices on the moistened border. If you do, try to wipe it off. If some of this juice remains, the seal will not be tight and things might leak out while baking.
Very gently, lift up the half of the dough without any apples and place it over the apple section. You may need to carefully stretch it a bit to get over the mound of apple pieces. Stretch to the moistened edges and press down firmly. With the ends of a fork, press down along the seam all around the three edges. One edge will be where you folded the pastry dough. Do not used the fork on this edge.
With a sharp knife, make two slits, about two inches long, on the top of each unbaked turnover. This is to let steam escape while baking so your creations won't explode in the oven.
Very carefully, transfer the unbaked turnover onto a baking sheet. I use a spatula so I won't break it apart. I like to line the baking sheet with parchment paper. Or you can lightly grease it.
Bake 20-22 minutes, until pastry has puffed up and is beautifully browned.
Remove from oven and transfer to a cooling rack.
Dribble glaze over warm turnovers.
Let cool a few minutes before eating since the filling will be piping hot.
Enjoy and make sure to lick your fingers!