Recipe: Warm Black Bean Dip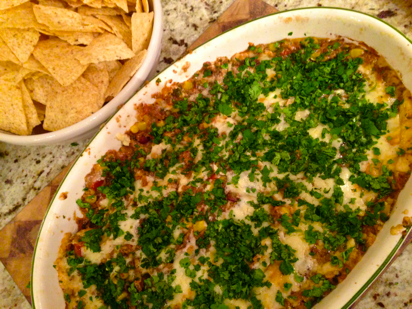 We made this appetizer for a lovely dinner party we went to this evening. It was a perfect choice for such a cold, rainy night, and everyone liked it.
I had pinned this recipe on Pinterest to try sometime, and I'm glad I did. The recipe that I show below comes fairly directly, with only a few modifications, from this website where I found it, but it is referenced there as originating courtesy of Tony Rosenfield in Fine Cooking magazine.
2 tablespoons extra-virgin olive oil + more for baking dish
2 medium tomatoes, cored and cut into medium dice
2 teaspoons kosher salt, divided use
1 large yellow onion, finely diced
3 large cloves garlic, minced
1 tablespoon chili powder
2 (15.5-oz.) cans black beans, rinsed and drained well
1 – 2 canned chipotles en adobo, minced (about 1 tablespoon), plus 3 tablespoons adobo sauce from can
1 tablespoon cider vinegar
1-1/2 cups fresh or frozen corn kernels (if frozen, thaw first)
1-1/2 cups (6 oz.) grated sharp cheddar cheese
1-1/2 cups (6 oz.) grated Monterey Jack cheese
3/4 cup chopped fresh cilantro
Freshly ground black pepper
Tortilla chips for serving
Directions:
Heat oven to 425˚F. Grease a 2 qt. baking dish with a little bit of oil. Set the tomatoes in a colander over the sink and sprinkle with 1 teaspoon salt.
Heat oil in a large (12-inch) skillet over medium-high heat until shimmering hot. Reduce heat to medium, add onion, sprinkle with reserved 1 teaspoon salt, and cook, stirring, until softened and translucent, about 4 to 6 minutes. Add garlic and chili powder and cook, stirring, for 1 minute. Add half of black beans, chipotles and adobo sauce, and 3/4 cup water and bring to a boil. Cook until liquid reduces by about half, 2 to 3 minutes.
Transfer bean mixture to a food processor, add vinegar, and process until smooth. Let cool for a couple of minutes and then transfer to a large bowl. Add rest of beans, tomatoes, corn, half of each of cheeses, and 1/2 cup of cilantro. Mix well and season to taste with salt and pepper.
Transfer to baking dish and sprinkle with remaining cheese. Bake until cheese melts and browns around edges, about 15 minutes (longer if refrigerated). Sprinkle with remaining cilantro and serve with tortilla chips for dipping.
Yield: 10 to 12 servings
Enjoy!