Recipe: Mushroom Stroganoff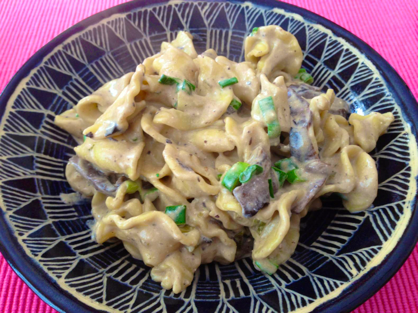 This is both good and really quick and easy. We ate it here as a solo main dish but I like it better as a side for something else. The leftovers are great warmed up out of the fridge next to a bun-less salmon burger and a small simple salad.
12 oz egg noodles
3 Tablespoons of organic butter
5 portabella mushrooms, stems removed and sliced
1 teaspoon salt
1 bunch scallions, chopped and divided
1 Tablespoon all purpose flour
14 oz Vegetable Broth (we use Organic No Chicken Broth)
8 oz organic sour cream
4 oz plain goat cheese
1/2 teaspoon black pepper
Cook the noodles over high heat in about 4 quarts of boiling water for 18 to 22 minutes, stirring occasionally.
Melt the butter in a large sauté pan over medium high heat. Add mushroom slices and salt. Raise the heat to high. Sauté until dark in color and no liquid remains. Add the white bottoms of the scallions and cook for a couple more minutes before stirring in the flour until well combined. Then deglaze the bottom of the pan with the broth and turn the heat down to a simmer.
Cook on low for 10 -12 minutes. Add sour cream, goat cheese, and pepper, stirring until combined and warmed through.
Drain the noodles, add to the pan along with the green scallion tops, and combine. Serve immediately.