Nigel Slater's Tender Vegetable Tips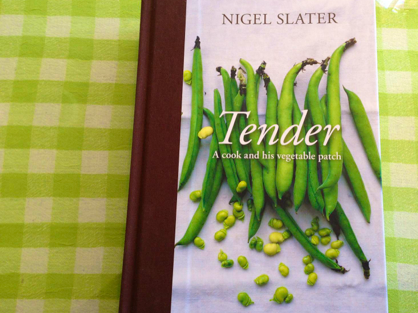 This book is a tome, with over 400 recipes and extensive gardening tips for growing vegetables, it has 624 pages of dense, but insightful, easy-to-read information. I've included a sample page below that was in the lettuce section. If you are a cook who is also a gardener, this book is an amazing resource. It discusses different varieties of each vegetable, how they best grow, what they are best seasoned with, etc. This is as much hefty non-fiction reading and a gardening reference book as it is a cookbook. There are some photos in this book, but it is predominantly text, unlike some that are mostly photos with minimal text.
Here are some of the tips about cooking with vegetables that I picked up in this book:
• Dress beets with walnut oil, a bit of mustard and fresh dill. Serve in a salad with apples and some capers.
• Grate raw beets and add them to an omelette along with chopped dill.
• Use beets as a substitute for carrots in a traditional carrot cake.
• Eggplants dislike the fridge; keep them cool at room temperature.
• Cooked beans don't store very well. If you need them "to overnight" in the fridge, give them a glug of olive oil and cover them closely with plastic wrap to prevent them from drying out.
• Add dill seeds to intensify the celery taste in soups.
• Dark skinned varieties of onions store better than pale ones.
• Avoid putting a cut onion in the fridge; it will taint everything in there, especially the milk.
• Mix sweet onions with salty ingredients.
• Chop shallots in fine rings, letting them sit in vinegar for a while, before adding oil and pepper for salad dressing.
• Don't put peas in quiche. They will make the custard fall apart.
• Don't freeze zucchini (I already knew that potatoes don't freeze well…)
• Tap squashes on the bottom with your knuckle. If it sounds hollow, it's a good one. Silence means you'll need to use it immediately. Likewise, a pumpkin that sounds hollow when tapped will keep better than one where there is no sound at all.
Additionally, I came away with some recipes to try, including Pumpkin Scones, Root Vegetable Korma, Baked Eggplant with Thyme and Cream, Carrot and Cilantro Fritters, Red Cabbage and Blue Cheese Slaw, Mashed Brussels Sprouts with Parmesan, and Chick pea Patties with Beet Tzatsiki…
Reading this book has made me interested in reading his Kitchen Diaries as well, which I've requested on interlibrary loan.
And thank you to blog reader Sandra who loaned me her Christmas present copy of this book to look at over the past month!