Recipe: Cheesy Leek Toasts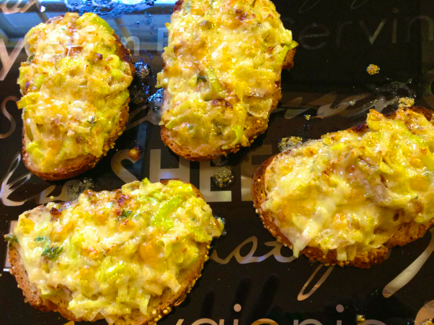 Looking for a quick, warm, satisfying lunch? Try this for easy yumminess!
Cheese Toast Recipe
1 tablespoon butter
2 medium leeks, cleaned and white parts sliced
leaves from a few sprigs of thyme, chopped
3 tablespoons of heavy cream (or half and half)
2 oz cheddar cheese, grated
sea salt and freshly ground pepper
2 slices of robust bread (sourdough, multi-grain, Ezekiel, or gluten-free)
(or as shown here, four slices of a smaller loaf…)
Optional: honey mustard
Preheat the broiler.
Melt the butter over medium heat in a small frying pan and add the leeks. Once they start to cook vigorously, turn down the heat and cook slowly, stirring frequently, for about 10 minutes, until soft. Stir in the thyme and cream. Cook a couple minutes longer, until bubbling. Pull off the heat and mix in 2/3 of the cheese. Salt and pepper to taste.
Lightly toast the bread. Skim coat the toast with honey mustard, if using. Spread the leek mixture thickly over the bread and top with the remaining cheese. Broil until bubbling and golden. Serve right away.
Enjoy!