Prayer Paintings and Condolences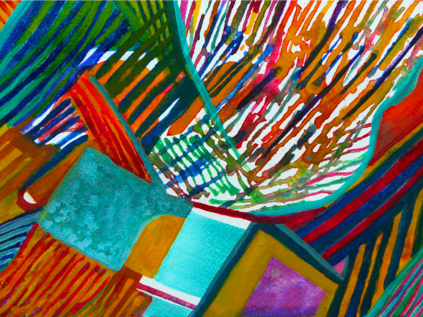 I have heard from so many of you with beautiful and heartfelt condolences, and I wanted to take this opportunity to thank you. I have appreciated the love and support of each and every one of you. I am indeed blessed with marvelous family, friends, colleagues, and blog readers. You all are precious to me. Thank you for being so responsive and caring.
All your messages were wonderful –equally and deeply appreciated– but here is an example of the mail I've been getting, this one from a friend from college:
"I am very sorry to hear of your mother's passing. I loved the things you wrote about her. It was sweet for me to remember her gardens neatly labeled, the basketball game you kindly shared with me, her exuberant artwork, her expressive joyful eyes, and her dignified hospitality. I can see how you have learned from her to be an intelligent beautiful creative woman who pours her energies joyfully into her family and community. I grieve with you in your loss, and share with you in your thankful admiration of your mother."
It was my son who told me I needed to paint, and he was right. Prayer while painting is very soothing and centering for me. I chose to work today in my mother's favorite medium of watercolor. I did these three pieces this afternoon out in glorious weather surrounded by your love. You can see how much more resolved I was by the last one, although the middle one is my favorite.
I'm doing fine, and have all my kids at home this week. I've taken two additional days off and am ready now to get back to work tomorrow.
Thank you again to each of you for your kindness.