Our Daughter Back from Cattle-working in Colorado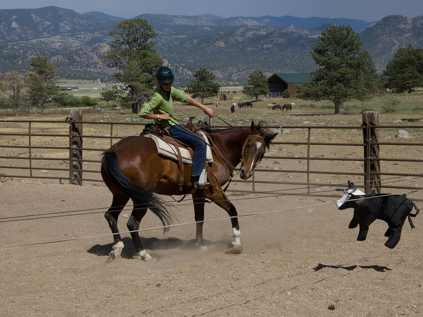 Our youngest daughter is back from a two week program of cattle-working in Colorado.  She had a great time and flew home on July 4th to an awesome display of fireworks from above.  She keeps repeatedly saying the whole trip was "so fun," which is the majority of our non-specific feedback!  
Offered as a co-ed program through Adventure Unlimited, we were surprised that the sign-up comprised of all girls.  You can see the eight of them in the last photo (four counselors are in the back row) pretending to be prissy, which is a joke, because these girls were not!  They came from all over: California, Georgia, (ours from Connecticut) etc.  
Our daughter had by far the least experience with horsemanship among them, but she told me she liked it that way because she learned the most. 
They were in the saddle from 6 – 8 hours everyday, which is a lot more than she's ever done consistently before. In the top photo you can see that they first train them with a dummy cow that moves along a line. Then they mostly worked with a herd of 40 cattle, but the group had three days with a herd of a thousand as well. Our daughter also learned a bunch of new vocabulary ("cutting horses" and "pole-bending" for example.)  Her horse's name was Baxter. 
She got a full taste of the wrangler experience, except for the hat, because they were required to wear helmets. They got up at 5am to take care of the horses, and tried to swoop the huge, heavy western saddle up on the horse's back in one fluid motion. Not only did our daughter get to work with the cattle from horseback, but she also got to ride in her first rodeo, where she did "barrels, poles, and key hole." She said it was a blast, and thought she did pretty well considering she was new to it. (I wish I had photos of that!)
Laura returned home with blisters from the reins, and a weird tan on her hands; the top of her hands were deeply tan and her fingers were white because they had been curled around the reins.  The following quote of hers captures the spirit of her euphoria, "Absolutely nothing is better than cantering on an open range!"
In the photos here, she's either in the green shirt or the purple one…