Book Review: Abstract City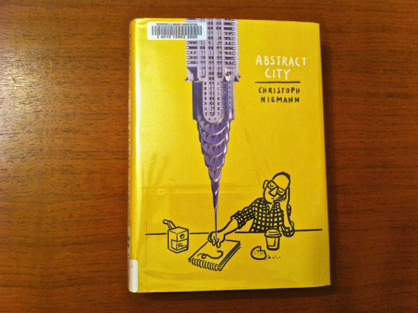 I liked this book more than I thought I would, and I give it four stars. It is both clever and amusing. I have included some sample bits in photographs below.
This would be a fun gift book to give someone who hasn't seen it, or to check out of the library for yourself.
It is undemanding and quick to peruse even though there are many pages. I read it in miscellaneous odd snatches of time like when I was waiting for soup to boil, or idling outside my daughter's activity before driving her home.
There are chapters here on everything from the NYC subway to coffee, and from Physics to the Berlin wall. The last chapter is particularly good about the creative process. The mediums for the illustrations range from pie dough to Lego, from wire to leaves, from woven paper to pencil sketches.
I couldn't help but appreciate the wit that put this book together, and caught a good view of this graphic designer's world. No wonder he sells cartoons to the New Yorker! His serious yet funny take on life is downright engaging.
One caveat: familiarity with New York City will at times help you appreciate the humor here. But I think most of it is generally accessible to most folks.
Want something entertaining and creative? Check this out this book.