Recipe: Strawberry Mango Cobbler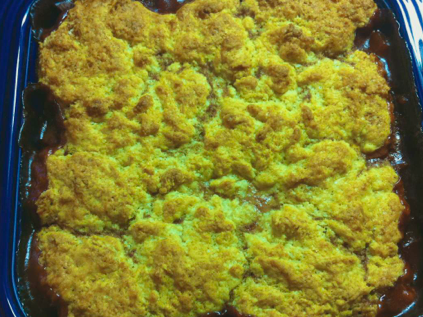 This cobbler is more like delicious biscuits over fruit than the sweet crumble topping type of cobbler, and it is much better than strawberry shortcake. Give it a try…
Strawberry Mango Cobbler
Preheat oven to 375˚F.
For the fruit layer:
2 10oz packages of frozen mangos. thawed (or 3 cups fresh)
2 10 oz packages of frozen strawberries, thawed and quartered (or 3 cups fresh)
1/2 cup packed brown sugar
1/2 teaspoon ground cinnamon
1/4 teaspoon ground cardamom
3 tablespoons unbleached white flour
Topping layer:
1 cup unbleached white flour
1 teaspoon baking powder
1/4 teaspoon baking soda
1/4 cup sugar
1 large egg
1/2 teaspoon pure vanilla extract
1/2 cup butter, melted
1/3 cup buttermilk
In bowl gently mix the fruit with the brown sugar, cinnamon, cardamom, and flour. Place this mixture in a 7" x 11" or 9" x 9" baking pan and set aside.
Sift together flour, baking powder, baking soda, and sugar. In a separate bowl beat the eggs and combine with the vanilla, melted butter and the buttermilk. Add the wet ingredients to the dry ingredients and stir until just combined; the dough will be slightly stiff. Drop the batter by large spoonfuls evenly spaced over the fruit.
Bake for 30-40 minutes, until the fruit is bubbling and the dough is golden brown and firm to the touch. Cool for 20 minutes before serving warm or at room temperature.
Enjoy!