Book Review: Steal Like an Artist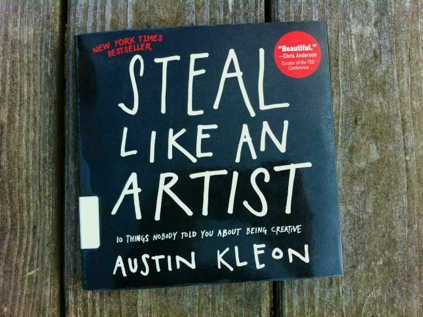 I originally saw this little volume during my recent visit to the MOMA, and I was pleased to be able to check it out from my library. I loved it!  Below are some snapshots I took from it as teasers to encourage you to buy a copy.
Here are some other quotes than the ones below:
•    "In my experience, it's in the act of making things and doing our work that we figure out who we are."

•    Cartoonist Gary Panter says, 'If you have one person you are influenced by, everyone will say you are the next whoever.  But if you rip off a hundred people, everyone will say you are an original!'"

•    "Don't just steal the style, steal the thinking behind the style. You don't want to look like your heroes, you want to see like your heroes."

•    Hugh MacLeod says, "The best way to get approval is to not need it."
The author is in favor of what he calls open fan letters which is what I so often do here with my featured artists (here's an example.)  Similarly, I'd like to plug this book by giving it five stars. It's not that it is so profound: most of it I'm already doing so for me it was only affirmation and encouragement.  But I suspect there are many out there that need the advice in here, and the permission it so strongly states to get on with it!  If there is a (potential or actual) artist of any kind in your life, this quick read would be an excellent gift.