Movie Review: Zootopia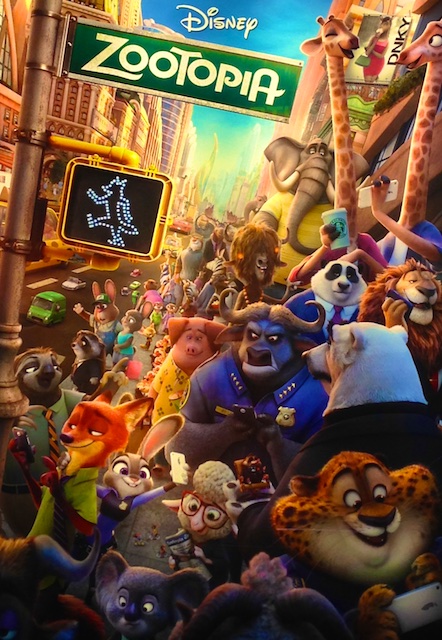 I haven't seen any movies in the theater for quite some time, but now I am planning to view three this week!
The one I saw yesterday was Zootopia, which is about a cartoon city of all sorts of mammals. They have evolved enough to get past eating one another and get along peaceably, although scandalously, some do yoga without any clothes on. Still, there is some criminal activity to be unravelled and apprehended.
This is where the police force comes in, and their latest hire is a bunny, who is breaking limitations and stereotypes to do a great job at it, overcoming each hurdle with tenacity and intelligence– no dumb bunny here. When she sets out to find a missing otter, she engages a wily fox, and stumbles into more than she bargained for, before she saves the day. 
This movie plays with the idea of whether carnivorous behavior is in one's biology. Can DNA be overcome? And how to we get beyond preconceptions and fear? There is some good vocabulary here gratuitously thrown in for kids to learn (actuaries, etc). And the theme of the film is about following your dreams and making the world a better place, all of which I applaud.
But simultaneously, it also posits that the world is always broken. It encourages the bunny to try for what she wants, but attempts to support that with song lyrics that sing over and over again to "try everything" and "embrace your next mistake." While maybe well intended, I felt like the message unfortunately went too far and could be easily misconstrued by impressionable young minds to try things they shouldn't. The protective mother in me bristled at the lack of wisdom and foresight in that, as well as at a lot of the pre-show stuff that was shown, which really wasn't appropriate for young kids to see. 
However, there was a lot of creativity expressed in this film, and thank goodness no slapstick, which I for one do not enjoy. There were different biomes, a fascinating range of creatures, different sized doors on the train for different animals, an ingenious place in the city for all types. The jokes were witty and the puns fun. The lemmings were true to themselves, the rabbits were quick to multiply, and the sloths were worth seeing the whole thing for. We agreed you'd get more out of it watching it more than once, for there were so many details, we both missed several that the other saw. 
But ultimately, for creatures to set aside one facet of themselves uniformly across the board, while maintaining all their other characteristic attributes, was implausible, and this made the whole story line weak and lacking in internal consistency. So because I want it to make sense within itself, as well as want it to be a completely good influence on young minds, I can only give it three stars.
You might enjoy this film if your expectations are low enough… since you won't want to miss those sloths, after all.