Teaching Vocabulary in our Homeschool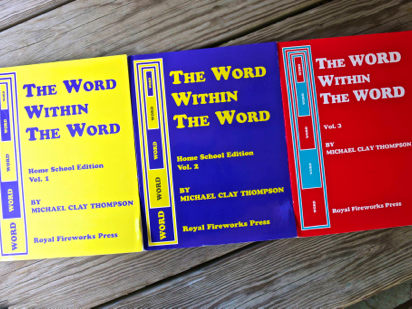 Having answered questions on a homeschooling chat-list recently about teaching vocabulary, I thought I'd include my thoughts on the subject here for future reference, or for blog readers out there with kids (whether homeschooling or not). Here is the essence of what I said:
Early on, we ditched vocabulary workbooks (like Wordly Wise) as busy work, unnecessary, and pointless. Most vocabulary comes through reading and usage anyway. Good books were a priority around here, as was discussion, both of which utilize vocabulary as a medium. Learning Latin and Greek roots can be helpful too. But it is most important to have fun with language and enjoy creative, descriptive, precise word choices.
For Latin and Greek roots we liked Michael Clay Thompson's program from Royal Firework Press, specifically Caesar's English 1 & 2, and Word Within the Word 1, 2, & 3. We took it slowly starting in late elementary school and enjoyed these five books over many years, finishing in high school, as the last few are very hard. There are many of words in these that you or I don't begin to know, and maybe your student will never use, but the process of being able to decode any unrecognizable word will always come in handy.
With Caesar's English, which are the two more basic, foundational books, the kids made flash cards of the roots and words as we came across them – see the larger flash cards in the photo below. Some days we either just made flash cards of the new material, or we'd just blitz through the growing flashcard stack as review and that would be all.
As an additional benefit to this program, Word Within the Word really helped our struggling speller, which was an outcome we had not expected, but was natural and organic when understanding was obtained about how prefixes, stems, and endings work. (Now she's making up her own words…)
What was also effective for us was me making a stack of index cards with other vocabulary words on them – see the blue and orange cards in the photo below. Each night after dinner one of the kids would pull a card out at random from that stack and then all three had to act it out together for us parents to see if we could guess it. They have never forgotten words like "boisterous" when learned that way.
I made those cards as the words occurred to me, not from any particular list. We were not ones to bog down our cherished read aloud time by talking about what words meant, so when I came across one that I was not sure they knew (but could comprehend it in context) I'd make a note of it and later make a card for it. When you are only using word cards at the rate of several dinners a week, generation of these cards does not become onerous. Another source of words came when we were trying to guess what word they were acting out, and we got it wrong, but realized they did not know the other word either. (For example, "boisterous" could easily look like "vociferous" or "clamorous," so we'd add those to cards in the stack and shuffle them.)
This combined method created enthusiasm for, awareness of, and interest in juicy, expressive words. They had fun finding roots everywhere and being able to decode meanings of words they did not know. Our kids grew up thinking words like "sanguine" or "obstreperous" were just normal words, because we would not just study them but find ways to use them, sprinkled in regular conversation. And they never had to cram vocabulary for college entrance tests either with our reading/talking/root study/playing method.
This holistic approach is why they call homeschooling a lifestyle, for it is more than the sum of the parts of any definitive curriculum.