I Saw the Barefoot Contessa Live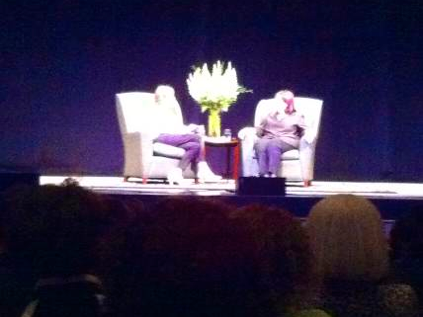 I was given a ticket to see Ina Garten (the Barefoot Contessa) live as a gift and what a nice present it was!  I had a perfect seat, front, close, and center in the Bushnell Theater in Hartford, at an event that amazingly brought out 2,700 foodies.
There were two chairs on stage, as you can see by my bad iphone photo above, for Ina and an interviewer.  For an interview in front of thousands, it felt down-home, cozy and informal.
Ina's food is elegant, simple and classic; I love it.  She has made a name for herself with her warm demeanor, honest recipes, and hassle-free hosting.  I love her as well as her food and it was a pleasure to see her in person and hear how her success story unfolded.
Born in Brooklyn and brought up in Stamford, Connecticut, Ina's mother refused to let her help in the kitchen as a child, insisting instead she work on her schoolwork.  At 15, Ina met her future husband Jeffery Garten, on a trip to see her brother at Dartmouth. At 20, she would interrupt her schooling at Syracuse to marry him.
During a camping trip in Europe with Jeffery, Ina tasted her first Beef Bourguignon and she said that changed her life, and wishes that campground director in Normandy could know that!  She returned home to teach herself how to cook using Julia Child's cookbook, Mastering the Art of French Cooking.
While Jeffery worked in the State Department for Kissinger, Ina worked in the White House and finished her degree at George Washington University, eventually earning an MBA.  Meanwhile, she was amusing herself by having dinner parties every Saturday night, and was buying, refurbishing and reselling real estate on Dupont Circle as well.
Ina was in her fourth year working in the White House Office of Management and Budget as a budget analyst writing nuclear energy budgets and policy papers on nuclear centrifuge plants, and she was bored.  She says it was initially exciting to have what she wrote read by the President (Ford and Carter) but when nothing happened and four years later she was rewriting the same papers, she thought, "Anything must be more fun than this."
Looking through the New York Times, she saw an ad for a specialty food store in the Hamptons, and on a lark, she and her husband drove up to look at a tiny place named the Barefoot Contessa. They ended up making a lowball offer based on the money she had made flipping houses in D.C., but never dreamed for a minute that their meager offer would be accepted.  It was accepted though, and Ina's parents said incredulously, "What? You're leaving working at the White House to buy a grocery store in the middle of nowhere?"
Jeffery was supportive, however, of whatever would make Ina happy, and he continued on in D.C. and traveled to the Hamptons on the weekends; the store was only open in the summer anyway.  Meanwhile, Ina had the former owner show her the ropes for a month, and then she was on her own, clueless.
She spent the next 20 years making the Barefoot Contessa specialty food store into a thriving business. When called and asked to bid on a charity dinner (that was a good cause) for 1000 people, she offered to do it for free.  Eventually she got to the point that if anyone ever asked her to make another ten pounds of chicken salad she would scream, so she sold the business, not sure what she would do next.
Out of that fallow time, Ina's first cookbook was born.  She has since written 8 cookbooks, every one of which has sold more than 6 million copies.  Each cookbook takes 2 years to write and she is involved in every detail of them.  Every recipe is tested 4 – 25 times, to be sure it comes out perfectly every time.  She wants each cookbook page-spread to first prompt someone to exclaim, "Oh, that looks delicious!" and then to notice directions that seem easy enough for them to consider making it.
The Food Network kept asking her to do a show, and she would turn them away, saying she was not interested. Six months later, they would be back offering more money and begging.  She would tell them, "Really, I'm not bargaining with you: I'm not interested!"
Eventually they came to her and asked her if there wasn't a director she liked.  She admitted that yes, some particular person in England did a pretty good job.  The next day, the network called and said they had hired that English director, and they would arrive at her house in the Hamptons the next Thursday to film her first show. Yikes! But she went with it, thinking it would quickly be a bust, and then at least they'd leave her be.
But it wasn't.  She is now in her 11th year on the Food Network to rave reviews with no end in sight.  It takes a day and a half to film a twenty minute show. She cooks everything and does it her way, in real time. She says she has no patience for shows where something goes in the oven and something different comes out that was made at a different time.
The first six years of shows were filmed in her own home, but she has since bought the house next door, and now they film there. She likes this arrangement much better, and also uses that space as her office and test kitchen, where she has only one assistant.   She remembers talking with Jeffery on her 20 yard commute next door about the bunny hopping across her path, while Jeffery was on a 3.5 hour commute to where he now works at Yale, sitting in gridlock.
And I thought it was very interesting that she never once has watched a single one of her shows.
Her latest endeavor is to make frozen dinner food sauté's for two, which will be coming out in regular grocery stores soon.  Made with all fresh ingredients, they will cost $7.99, be quick to make on a stovetop, and will come in 9 different recipes. They will be in bags in the freezer section.
Cooks and cookbooks she enjoys? She referenced Craig Claiborne of the New York Times, and the Silver Palate.
Her recommendation for a dinner party is to do something you know how to do that can either be easily done or can be done ahead.  Don't try to make omelets for everybody!  And at a dinner party, put the two most talkative people across from each other.
Does Jeffery wash the dishes? "No", she says, "I'm too controlling about how the dishwasher is filled for that!  His only job is to be appreciative."
Her favorite easy recipes: Green Bean Gremolata, Pan Fried Onion Dip, Roasted Shrimp Cocktail.
Her recipes that are on my blog: The fish I made a few days ago for Easter, Awesome Carrot Cake, Roasted Brussels Sprouts, Caramelized Butternut Squash.
My favorite quote of hers from the evening: "I love risk. If it doesn't keep me up at night, it's not worth doing."
I loved witnessing the success of good taste and straightforward sincerity that are embodied in Ina. I'd wish that for everyone!
Afterwards, I bypassed a huge line where she was signing her newest cookbook; you can see my library copy below.