Movie Review: Anna Karenina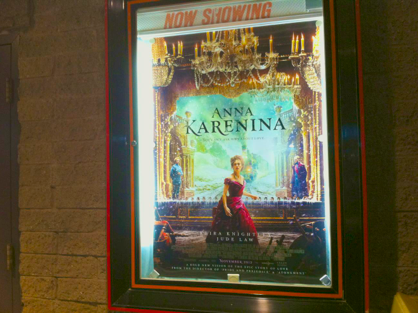 I was surprised to really like this movie. Notwithstanding it's storyline about adultery, this movie's theatric staging was so creative as to make it fascinating in itself. For this I give this brilliantly done film five stars.
Having never read the book –and because of the topic it is unlikely that I ever will – I cannot speak to how well it does the original classic text justice. Distilling an immense work of fiction into a couple hours of film must lose something, but I hadn't expected so much value added by the way the film was directed. There was choreography here, and a fabulous musical score. This was a surprising treat.
Also surprising was how well Keira Knightly did in this role. When we saw her in Pride and Prejudice, we felt like you never lost the feeling it was Keira Knightly playing Elizabeth Bennett, which very much detracted from that film. I did not find that the case with this film. Keira plays a heart-breakingly convincing Emma here. 
This movie set a new high standard for inventive, original, cinema-graphic approaches. It was an effort  that was both amazing and interesting, while genuinely conducive to moving the story along. For this beautiful, intriguing, innovative staging more than any other factor, I recommend this film.