Our Son turns 18 Today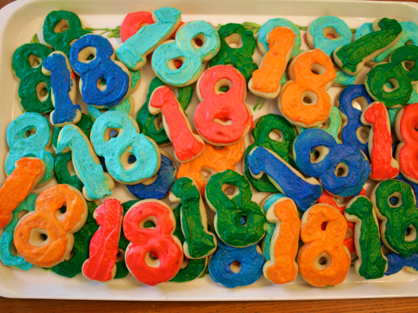 Our son turns 18 today and goes to college tomorrow to start his Freshman year.  It is sobering to think he is now registered for the draft and that at this age my dad was enlisted in World War II. 
Regarding a gift, we had thought of getting him either a refrigerator or a bookcase for his dorm room as a present, but someone from church gave him a free fridge, and our next door neighbor gave him an extra bookcase. So we bought him a pile of stuff that wasn't on the long list of stuff he had already bought for college (extra long sheets, bike lock, desk lamp, fan, Ethernet cable, etc, etc…) – things that would ease his transition to being on his own as well as lighten his bill at the campus bookstore.  This is the biggest pile of ridiculous presents he's ever had (who wants laundry soap for their birthday) but also the priciest. I took a photo of all of it piled, unwrapped on my bed before wrapping it and you can see the heap as it was wrapped below as well.
Andrew also had a great time decorating his birthday cookie with economic and political statistics!