Epic Hike to the Top of Yosemite's Nevada Falls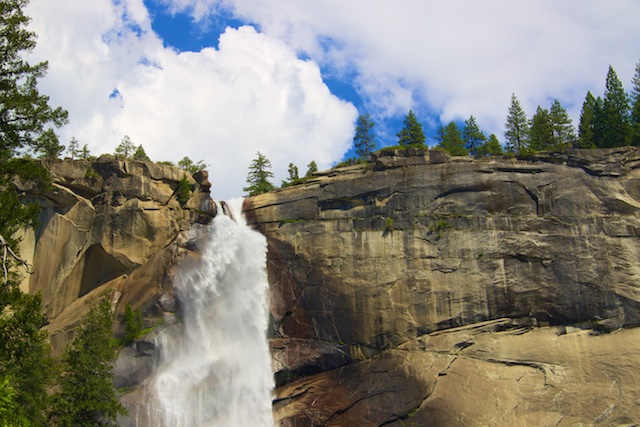 This awesome hike was epic for me. Labeled "strenuous" by the Parks Department, it earned that reputation with three vertical miles of trail, equaling 137 flights (yes, flights!) of stairs up. In many places the steps were 18″ high, so it was not always easy going. It was ten miles total from campsite to campsite, but we took our time. We could have continued from the top of Nevada Falls to the top of Half Dome, which was the next leg up the trail, for which you cling to cables.
We left early in the day to avoid the hottest time, and you can see our experience sequentially below. First we climbed to the top of Vernal Falls followed by the ascent to the top of Nevada Falls. There we picnicked, before returning back down the way we came.  
There was not much water in these falls compared to usual; you can see the black stains where the water usually is. It was surprising how small a creek at the top created this splendid waterfall. It is called the Mist Trail, because when the falls are full of water, there is continual mist to cool the hiker. However, I was not unhappy that the steps were dry instead of wet and slippery!
We didn't take many photos on the way down, focussing mostly on our footing. This was quite a lot of exercise for one day, and hardly anyone my age was doing it. I was grateful to be able to. We enjoyed every minute of it, and this day will remain a precious memory for both our daughter and me.